Dependable All-Weather Monitoring of the World's Oceans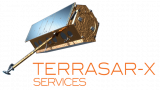 Thanks to their weather and daylight independence SAR systems dependably provide data and information - in any condition, anywhere on the globe. The full benefit of SAR systems emerges, when this imaging reliability is combined with responsiveness and rapid data delivery.
TerraSAR-X New Near-Real-Time Service Capabilities
Airbus Defence and Space's new TerraSAR-X Ship Detection Service is based on a fully automated processing and delivers detailed reports in down to only 15 min after data downlink. The powerful automated feature extraction algorithm rapidly provides actionable vessel information over large sea areas. An additional AIS matching (Automatic Identification System information feed needs to be provided by customer) supports the identification of AIS non-cooperative ships and activities. The information can be delivered in varying formats according to customer requirements (e.g. kml, .txt, .jpg, etc.)
The TerraSAR-X Ship Detection Services is part of Airbus Defence and Space's Maritime Safety & Security Services combining the benefits of Airbus Defence and Space's optical and SAR satellite fleet for enhanced maritime surveillance, helping to extend today's coastal surveillance to a true global maritime surveillance.
Key Benefits
Near-real-time information delivery within down to 15min after data downlink
Automatic detection accuracy ~90% for average ships length >15m (accuracy varies with ship size and sea state)
Detection of vessels down <15m length (dependent on radar cross-section of target and wave height)
Accurate information provision on vessel position, size, heading and AIS cooperativeness
Additional delivery of ice berg detection information on request
Enhanced TerraSAR-X Responsiveness
An extensive network of Ground Stations ensures the rapid availability of TerraSAR-X data around the globe. The recent addition of access to a polar ground receiving station in Svalbard further boosts the responsiveness of TerraSAR-X und efficiently supports near real-time applications.
In the future Airbus Defence and Space's radar imaging capabilities will be further enhanced by the implementation of the TerraSAR-X / PAZ constellation. In early 2014 the Spanish PAZ satellite (operator: Hisdesat) will be placed into the same orbit as TerraSAR-X. Operating the two satellites in a true constellation will provide customers with significantly reduced revisit times and enhanced acquisition capacities further improving maritime monitoring applications.