Radar Constellation (TerraSAR-X / PAZ)
Radar satellite services of unique precision, quality and reliability
Ready to buy Radar Constellation imagery?
Get from 25cm to 40m native resolution imagery now.
Looking for the best-in-class solution for crisis management and innovative commercial business solutions, our Radar Constellation is your best choice.
Our Radar Constellation provides you with reliable access to highly accurate Earth Observation data innear real-time, independent of weather and daylight conditions.
Radar Image acquisition in a unique constellation
The German TerraSAR-X / TanDEM-X satellite formation and the Spanish PAZ satellite (managed by Hisdesat Servicios Estratégicos S.A.) are being operated in the same orbit tube and feature identical ground swaths and imaging modes - allowing Airbus and Hisdesat to establish a unique commercial very high-resolution Radar Constellation. The satellites carry a high frequency X-band Synthetic Aperture Radar (SAR) sensor in order to acquire datasets ranging from very high-resolution to wide area coverage.
6 acquisition modes with lexible spatial resolution (from 25cm to 40m) and footprint

Weather and daylight independent site access to any point on Earth
High agility (rapid switches between different imaging modes and polarizations)
4/7 days Interferometric Repeat Cycle, Global mean revist time < 24 hrs

Unrivalled geometric accuracy and excellent radiometric accuracy
Key advantages of the Radar Constellation are an increased Acquisition Capacity, as well as an improved global mean Revisit Time and a significantly reduced Interferometric Repeat-Cycle supporting data-hungry, high monitoring frequency applications such as e.g.:
Change Detection for Image Intelligence as well as Maritime Surveillance, or
InSAR Analysis for oil and gas field- or civil engineering structure measurements of ground surface motion (uplift or subsidence) with millimetre precision and high resolution.
Your advantages with Radar Constellation
Reliable & timely
Fully operational at night or during periods of cloud coverage
Versatile & flexible
Wide area monitoring, suited for e.g. maritime surveillance and pinpoint detail down to 25cm resolution, allows for interpretation close to optical imagery
Multiscale Elevation Models
With vertical accuracy up to 2m, even in areas with persistent cloud cover
SAR tutorial mini-series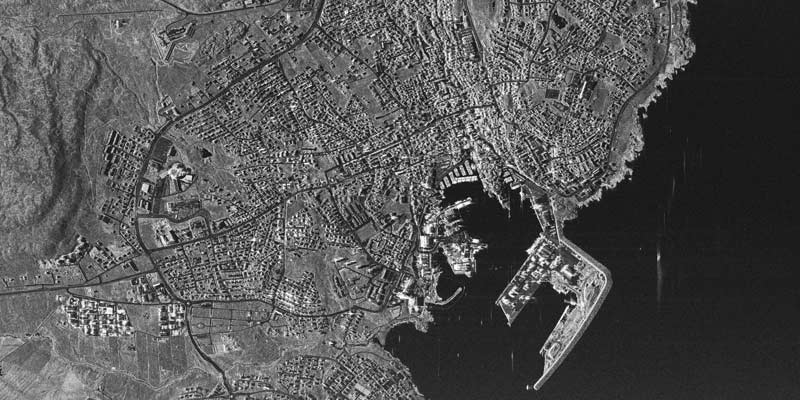 Episode 1 SAR Basics
Unlike any 'passive' optical systems, SAR sensors do not require external illumination (sunlight) in order to collect (useful) data. Being a so called 'active' system, Radar provides its own energy source to illuminate the area of interest and targets – allowing Radar to acquire data completely independent of daylight or weather conditions.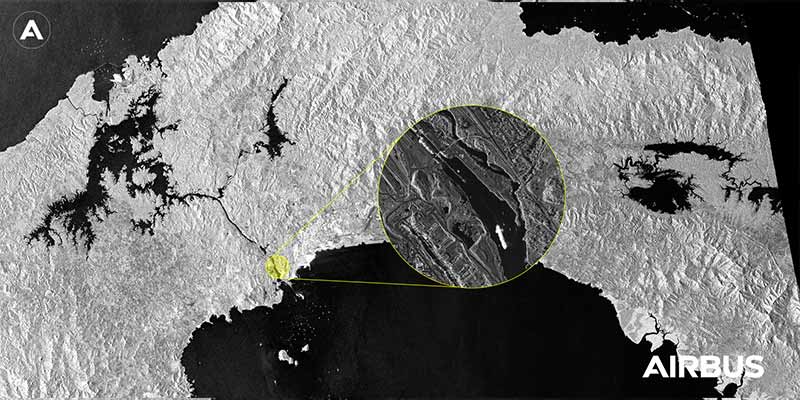 Episode 2 Acquisition Modes and Resolution
Airbus' Radar Constellation offers six different Acquisition Modes (or satellite settings) ranging from sub-metre resolution for hot-spot monitoring all the way to large area coverage at decent resolution benefitting services such as maritime surveillance.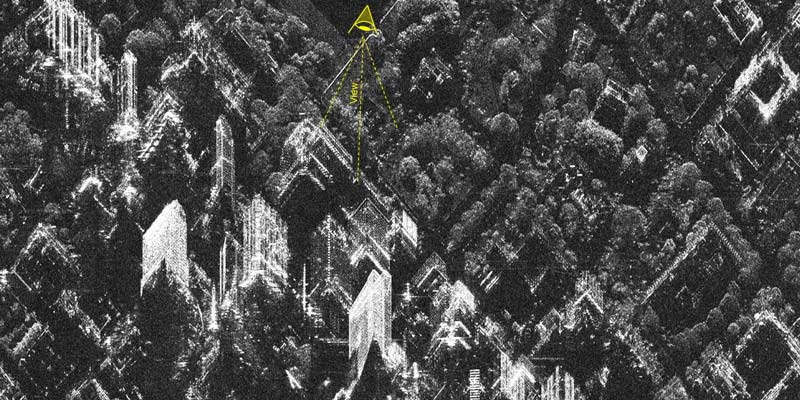 Episode 4 Layover
This is a Radar Constellation Staring SpotLight sub-metre resolution image of Downtown Honolulu, Hawaii. Similar to distortions encountered when using cameras, radar images are also subject to geometric distortions due to relief displacement. The so called layover always occurs when a radar beam reaches the top of an object (e.g. a tall building as shown in this image) before it reaches the ground.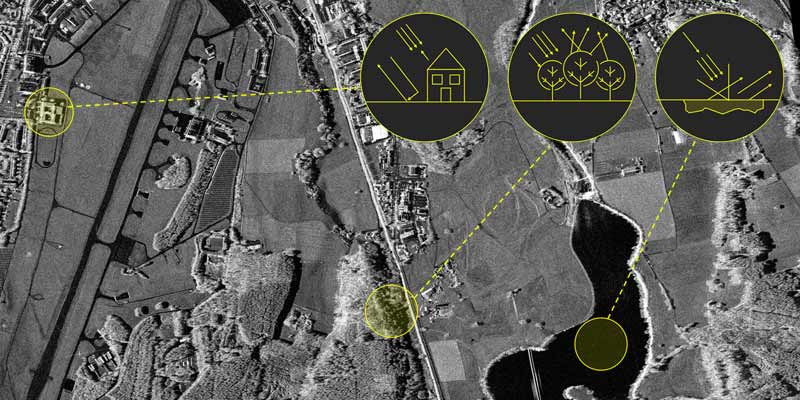 Episode 5 Backscattering
This Radar Constellation High Resolution SpotLight has been collected over an area in Bavaria, Germany.
Radar sensors are always looking sideways towards the ground at a specific, selectable incidence angle. This causes a 3D look of the area due to radar shadow and layover effects (see #Episodes 3 and #4 for more information).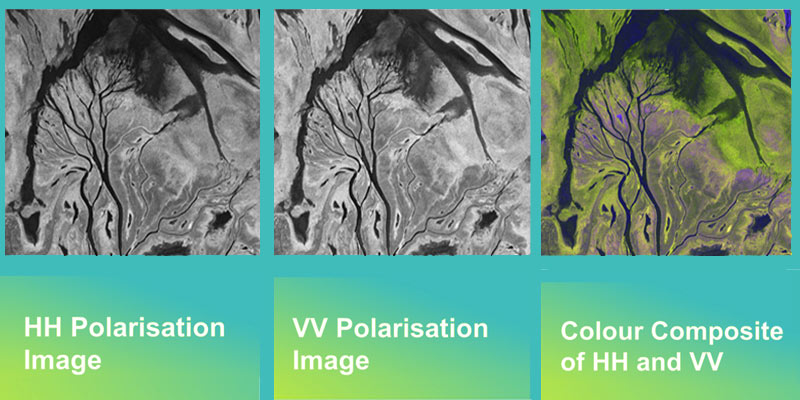 Episode 6 Polarisation
This Radar Constellation image in StripMap mode at 3m spatial resolution has been collected over Po Yang Hu Reservoir in China. It is presented here in two different layers, so called 'polarisations' and their color combination.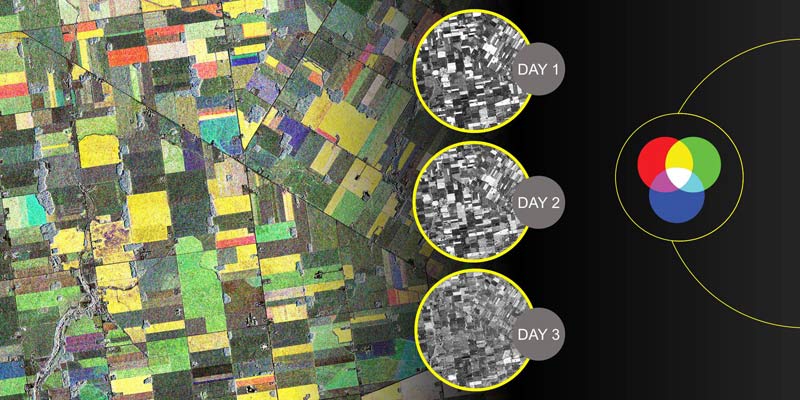 Episode 7 Colour Composite
This Colour Composite image of London, ON, Canada has been created from three StripMap images at 3m resolution, collected over the area in October and November.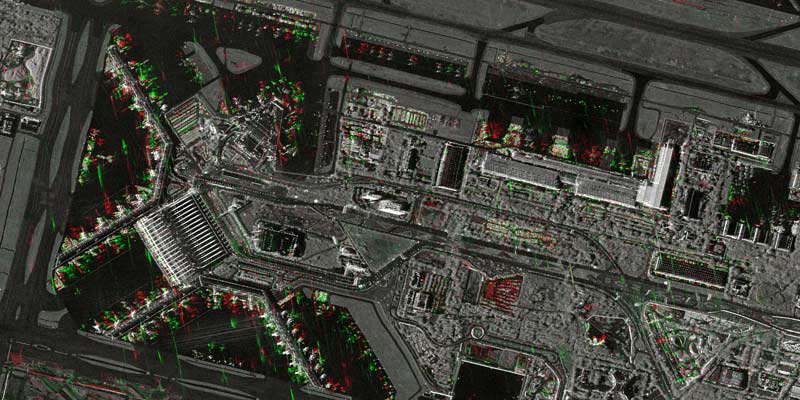 Episode 8 Amplitude Change Detection
This Amplitude Change Detection (ACD) image of India's Indira Gandhi International Airport has been created from two Radar Constellation Staring SpotLight images, acquired on different dates and at sub-metre resolution.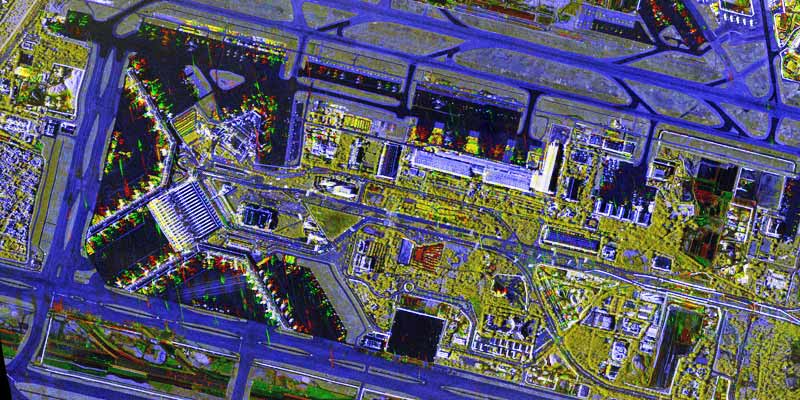 Episode 9 Coherence Change Detection
Similar to the previous #Episode 8, this Coherence Change Detection (CCD) image of Indira Gandhi Int'l Airport, New Delhi has been created from two Radar Constellation Staring SpotLight images, collected at an interval of 11 days.
Previous
Next
GeoStore
Task view and order geospatial data
Did you find your solution?
Speaking with the Airbus Team is the best way to get started.