Fortion® Mobile Command Post Solutions
IT deployment in the field - Reliable, protected and autonomous
Fortion® Mobile Command Posts provide highly mobile, deployable and functionally networked workrooms with optional EMP shielding and ballistic protection.
Fortion Mobile Command Posts are expandable or non-expandable containers or shelters, offering up to 27m² floor surface for up to twelve workstations.
Designed to protect modern IT systems and make a major contribution to reducing the defect and failure rate, they can be deployed on the ground as well as on vehicles fit for 20ft ISO containers.
Fortion Command Post Solutions are based on field proven building blocks and customisable to a large field of applications. An equipment compartment houses the power supply, air conditioning and collective NBC protection. They are transportable by truck, train, ship and aircraft. As an option, protective measures against ballistic fire, shrapnel, mines and lateral blast attacks can be added. Optional measures for sand and dust handling can be provided as well. Workrooms can also be equipped with additional electro-magnetic shielding.
Fortion Mobile Command Post
Interior view: example of a container configuration
Fortion Mobile Command Post
Adaptable workplaces based on customer needs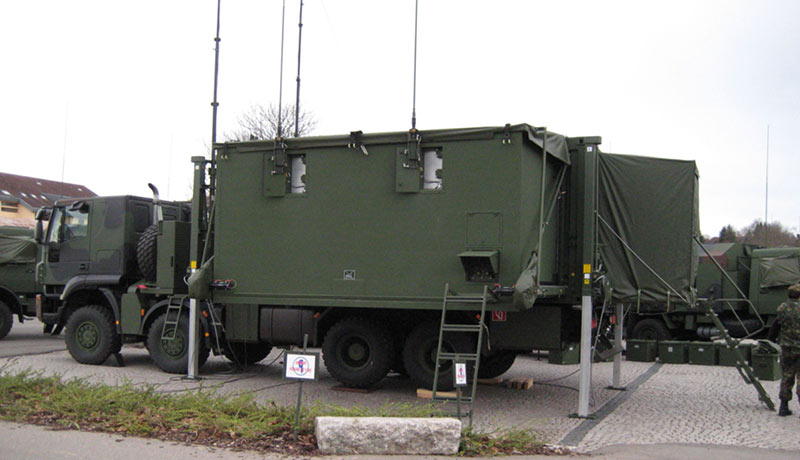 Fortion Mobile Command Post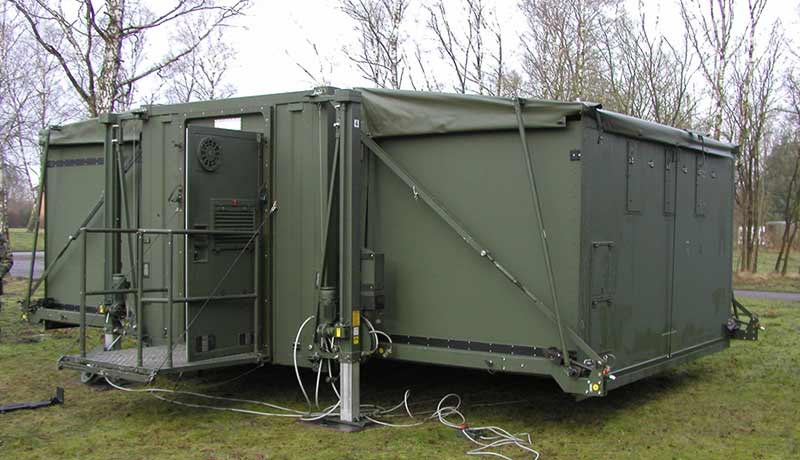 Fortion Mobile Command Post
Expandable deployable container providing more space for people and equipment
Previous
Next
Technical features
Weight: Empty from ~4,500kg, total max 13,500kg
Generator: Up from 20-40kVA/400V in standard configuration
Noise level: 65dB(A) outside at 7m distance, <60dB(A) inside
Temperature range: -32°C to + 55°C
Airflow: 2x 120m³/h for NBC protection
Standards
ISO 668, MIL-STD-810, AECTP-230, STANAG 4370, STANAG 4569
Options
Ballistic protection, sand and dust handling, separate IT compartment
Your advantages with Fortion Mobile Command Post Solutions
Reliability
Pre-qualified field proven solution
Plug and play
Integration and verification of all necessary infrastructure
Tailored to your needs
Modular building blocks reduce time and qualification efforts
References
EuroHawk: command post used as ground control station

NH90 and Tiger helicopters: ground control station

Command post for several C2 solutions
Did you find your solution?
Speaking with the Airbus Team is the best way to get started.