Pléiades Satellite Imagery
The very-high-resolution constellation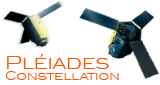 Pléiades 1A and Pléiades 1B operate as a constellation in the same orbit, phased 180° apart.
The identical twin satellites deliver very-high-resolution optical data products in record time and offer a daily revisit capability to any point on the globe.
Quick Delivery
The Pléiades constellation is designed to obtain data in double-quick time:
Ability to acquire imagery anywhere in the world in less than 24 hrs. in response to a crisis or natural disaster.
Regular monitoring, as often as every day if required.
Three satellite work plans a day ensure easy handling of last-minute tasking requests.
Twice the coverage and twice the chance of obtaining cloud-free imagery.
Detail and Precision
Pléiades products are ideally suited to precision mapping and photointerpretation.
50-cm resolution, colour, orthorectified imagery.
20-km ground footprint at nadir, up to 100 km x 100 km in strip mapping mode.
The full Pléiades portfolio is available in a few clicks on GeoStore.
Availability and Flexibility
Maximum acquisition capacity of 1 million sq.km per day, per satellite.

Exceptional agility to maximize acquisitions of a specific area of interest.

5 acquisition modes: Target, Strip Mapping, Tri-stereo, Corridor and Persistent Surveillance.
See Also...
One Day Pléiades
Pléiades' exceptional daily acquisition capability
Proven Examples of Pléiades Services
How agility, reactivity and availability set the new standard
Pléiades Constellation
Exceptional Responsiveness for Your Need
Did you know?

Pléiades, a civil/military programme integrated with SPOT 6 and 7
The Pléiades programme stems from the ORFEO cooperation agreements established in September 2001 by the French and Italian space agencies to develop a dual-use Earth-imaging system offering sub-metric resolution.