GEO Elevation Services
The Right Elevation Model for all Your Project Needs
Whether planning an infrastructure network, conducting a military intervention mission in unknown terrains, or analysing terrain features for oil and gas exploration: accurate terrain height information is critical.
Precise and reliable elevation data supports a wide range of applications and forms the foundation of any accurate geospatial product.
The GEO Elevation product suite - based on spaceborne optical and radar technologies - offers the most comprehensive elevation data range available on the market.
What You Get
Elevation data matched to individual business need: large area coverage for large scale projects vs. high level of accuracy for local coverage
Rapid on-demand delivery of high precision elevation data anywhere in the world
All products framed to individual Area of Interest with
optimised pricing per km²
Based on spaceborne optical and radar technologies
The scope of delivery can be adapted to individual needs by choosing to add a set of auxiliary layers or corresponding orthorectified images to the input data. Highly developed digital data processing flow line and a large production capacity allow for unique time and cost-efficient production and delivery.
Elevation Data - Global to Local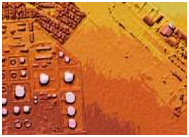 Very High Resolution Elevation Data
Elevation1 delivers highly detailed elevation information specifically optimised for hydrological application and oil / mineral exploration.
Elevation4 delivers precise foundation data particularly suited for 3D mapping of dense urban areas or relief in steep terrain.
High Resolution Elevation Data
Elevation8 provides an optimised fit for the needs of mapping or oil & gas applications, particularly when large-area coverage is required.
Elevation10 delivers weather-independent, reliable and fast data acquisition for mapping, mission planning and terrain analysis anywhere in the world.
WorldDEM™ is the global elevation dataset of unprecedented quality, accuracy and coverage.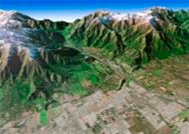 Medium Resolution Elevation Data
Elevation30: unique 3D geographic reference database covering > 80 Mio km².