Pléiades Products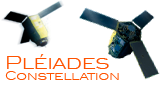 Pléiades 50-cm-resolution products are available at two processing levels, Primary and Ortho, in all spectral combinations. You can order archive or tasked satellite imagery per sq.km over your area of interest from our GeoStore web portal or through our Customer Care Service, by contacting your usual point of contact or by completing the contact form.
Pléiades Product Options
Area of Interest
Define your area of interest:
Circle: latitude and longitude of centre in decimal degrees, radius in kilometres (based on WGS 84)
Rectangle: latitude and longitude of top left and bottom right corners in decimal degrees (based on WGS 84)
ESRI shapefile or KMZ or KML polygon: in decimal degrees, UTM WGS 84 projection
In all cases, minimum of 25 sq.km. for archive imagery and 100 sq.km. for tasked imagery, with a width of at least 5km in any direction for tasked imagery (500m for archive imagery).
Processing levels
Primary
For Mono, Stereo, Tri-stereo and Persistent Surveillance acquisitions:
Processing level closest to the image acquired by the sensor: it restores perfect collection conditions. The sensor is placed in rectilinear geometry, the image is clear of any radiometric distortion.
Optimal for clients familiar with satellite imagery processing techniques wishing to apply their own production methods (orthorectification or 3D modeling for example). To this end, RPCs and the sensor model are provided to ensure you full autonomy and simplicity.
Ortho
For Monoscopic acquisitions:
Georeferenced image in Earth geometry, corrected from off-nadir acquisition and terrain effects.
Optimal for simple and direct use of the image, and for immediate ingestion into a Geographic Information System.
The standard 3D model used for ground corrections is the worldwide Elevation30 dataset (also known as Reference3D).
When different precisions are needed, we can also provide custom orthorectification, with a more precise 3D model or GCPs you provide or we acquire for the purpose. The Tailored Ortho Product can also be requested in case of creation of a mosaic of images acquired at different dates. Each Tailored Ortho Product is submitted to a feasibility study and specific delivery timeframes.
Radiometric adjustments
Optimized Visual Rendering (OVR) is an option perfectly applying automatic radiometric adjustment to Pléiades Imagery. It is suited for display applications and direct integration on GIS.
It includes:
Radiometric adjustment : colour stretching and contrast enhancement
Atmospheric offset substraction
For JPEG 2000 12 bits/GeoTIFF 16 bits products without OVR, the dynamic range corresponds to the dynamic range at acquisition (12 bits – 4096 values).
With OVR option, images are encoded in 16 bits with 16 bits-depth dynamic range (65536 values).
The OVR option is free of charge
Spectral combinations
Panchromatic (P)
Multispectral (MS)
Bundle (P+MS)
Pansharpened (PMS)
50cm

1 band (Black and White)
2m

4 bands (B, G, R, NIR)
50cm and 2m, separated

Pan: 50cm
1 band (Black and White)

Multispectral: 2m
4 bands (B, G, R, NIR)
50cm (colour merged)

Pansharpened 4 bands (B, G, R, NIR)
Pansharpened 3 bands

Natural colour (B, R, G)
False colour (G, R, NIR)
Spectral bands:
Pan: 470 - 830 nm
Blue: 430 - 550 nm
Green: 500 - 620 nm
Red: 590 - 710 nm
Near-infrared: 740 - 940 nm
Delivery
NEW - Delivery time:
Standard: 24 hours
Rush: 12 hours
These delivery times apply during working days and working hours, for data stored at one of our main direct receiving stations in Toulouse, France and Kiruna, Sweden.
Delivery medium:
FTP
DVD (4.7 GB maximum per DVD)
Hard Drive (500 GB) or Flash Drive (16 GB) with additional charge (see price list)
Formats, encoding, projections
Pléiades products are delivered in DIMAP V2 format.
Imagery format
JPEG 2000, optimised compression (3.5 bits/pixel)perfect for fast download and easy data sharing,
JPEG 2000, regular compression (8 bits/pixel), recommended for user willing to do some high precision post processing,
GeoTIFF (uncompressed).
More about DIMAP V2 and JPEG 2000
Product encoding
8 bits + optional dynamic range adjustment on/off or tailored to need
12 bits for JPEG 2000 format, 16 bits for GeoTIFF format
Ortho projection
Geographic: WGS 84
Cartographic: UTM WGS 84
Other projections on request (all projection from the EPSG library are available).
See Also...
GeoStore
Pléiades quick-response imagery just one click away
Pléiades Direct Access Services
The Quickest Way to Deliver Pléiades Data
Pléiades Tasking Services
Automatic | Instant | Tailored
Documents
Pléiades User Guide