PixAgri
Precision agriculture with satellite imagery

Today, precision agriculture is about three key elements: saving time, reducing cost, and environmental stewardship.
To answer these growing needs for more efficient and more sustainable precision farming, Astrium Services has developed PixAgri, an offer available on all crops and for every country.
From precision to decision
The tool to track crop status at field and district level
PixAgri is a comprehensive service, available worldwide, that gives farming professionals more control over practices and inputs to achieve maximum profitability, by delivering field-level maps providing crop status information to help you make the right decisions.
PixAgri provides :
Crop development maps at key decision stages,
Customer service on hand throughout the campaign,
A personnal web access to the available maps.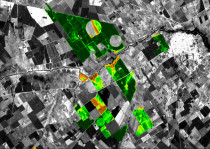 Key Benefits
Being informed on crop condition and development at key decision stages
Being informed on surface estimation that drives the estimated yield production
Optimizing inputs and adjusting field operations and practices to farm with cost effectiveness
Gaining a strategic and operational vision of your fields
Adopting a dynamic, effective approach to crop management based on spatially and temporally reliable, comparable data
Optimizing supply chain and logistics process
Adopting sustainable practices
PixAgri Suite
The pack offers a
subscription service covering a full cropping campaign
. We use a range of satellite data combined with tried-and-tested agronomic models to give you the information you need.
Prior to a campaign, our experts help you define your project on the basis of your objectives and specific cropping conditions (type of crop, field size, cropping calendar, etc.).
Add-ons
GeoPack, field boundary mapping;
Zoning Pack, sub-field zoning;
Agro Pack, field support;
Agro+ Pack, tailored crop science advice;
Training Pack, tailored training.