Calendar 2019
Download Your Wallpaper
August, San Francisco, USA - 3D Textured Mod
The 3D Textured Model is the next generation of satellite-based Digital Surface Models (DSM) derived from 50cm Pléiades satellite images with up to 2m relative vertical and up to 1.5m horizontal accuracy. Ideally suited for modelling, visualisation and simulation.
July, Le Havre, France - Pléiades Neo Simulation
From 2020 onwards, Pléiades Neo will reshape Earth Observation-based services. Airbus' most advanced optical constellation, with four identical 30cm resolution satellites with the ultimate reactivity, optimizes each step of the acquisition and delivery cycle.
Download in:
May, Bonifacio, Corsica, France - Pléiades
Bonifacio is considered France's best kept secret. Known as the 'Mediterranean's Sentinel' or the 'Citadel of Cliffs', it is positioned atop a white limestone cliff on Corsica's southern coast and is separated from the Italian island of Sardinia by the 11km long Strait of Bonifacio.
Download in:
April, Namib Desert, Southern Africa - SPOT 6
One of the oldest and largest deserts, the Namib stretches inland from the Atlantic Ocean, covering large swathes of Namibia and parts of Angola and South Africa. Surprisingly, it supports a diverse range of plants and animals, some of which are found nowhere else in the world.
Download in:
March, Lake Ellesmere, New Zealand - TerraSAR-X
Lake Ellesmere (Te Waihora), in the Canterbury region of New Zealand's South Island, is a shallow, brackish coastal lake of huge international importance for wildlife. With up to 98,000 birds on the lake at any one time, 166 species have been recorded here.
Download in:
February, Almada, Portugal - Pléiades
The municipality of Almada is located on the southern margin of the Tagus River; sited on the opposite bank is Lisbon. The two cities are connected by the 25th of April Bridge. The Centuary of Christ the King overlooks Lisbon from Almada's highest point.
Download in: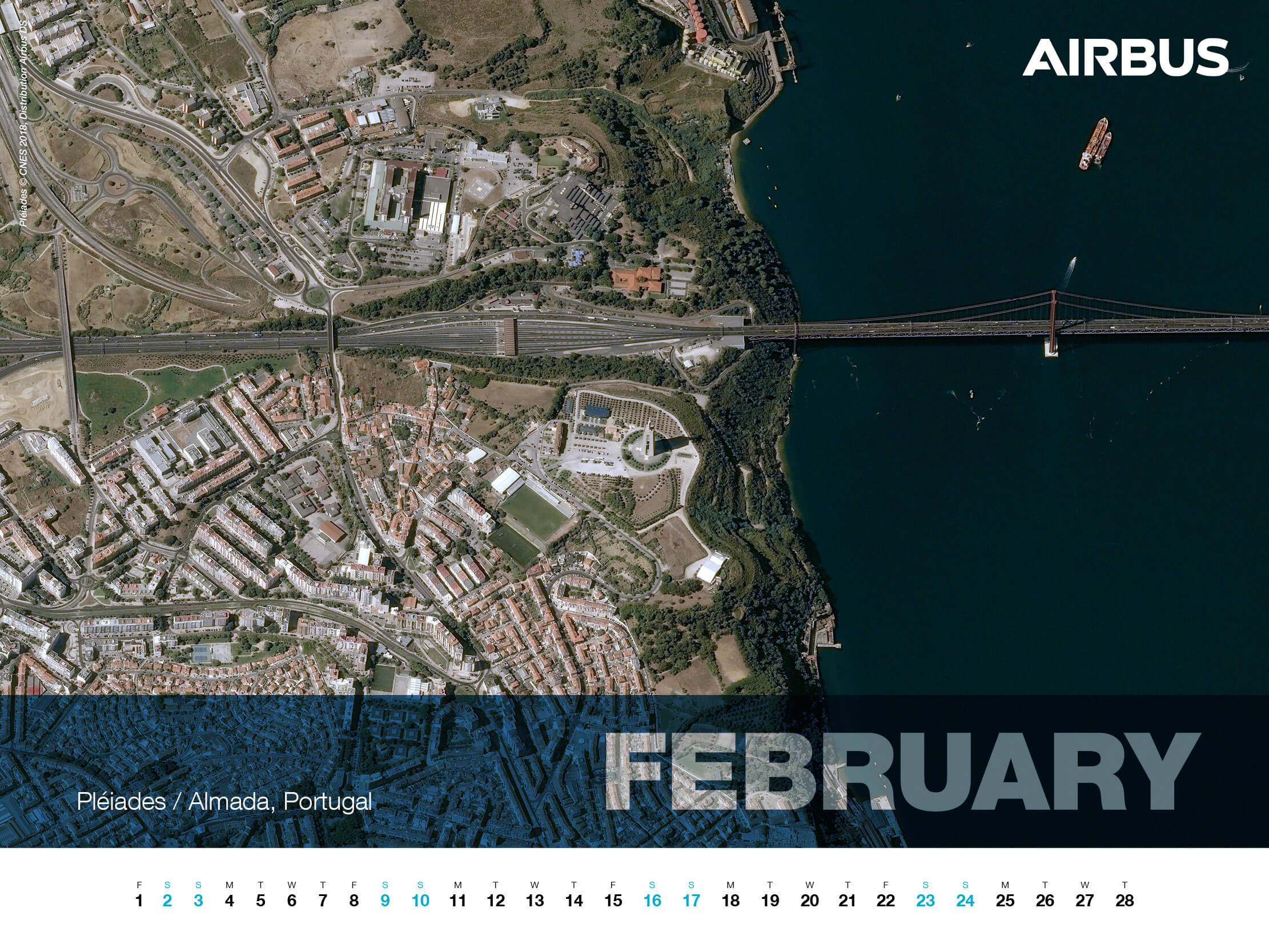 January - Mount Fuji, Japan
Mount Fuji, located on Honshu, is the highest mountain in Japan at 3,776m. It is a dormant stratovolcano and last erupted in 1707-1708. One of the country's Three Holy Mountains, and a Historic Site, it is also recognised as a Special Place of Scenic Beauty.
Download in: