A month after the fires that devastated the islands of Rhodes and Euboea in July 2023, Greece is faced with almost 350 wildfire outbreaks and has been fighting blazes near various cities for several days. The SPOT image from 24th August, 2023 depicts the situation in Athens, where many evacuation orders have been carried out to protect the local population.
The devastating flames, fanned by high temperatures and strong winds, continue to advance in the foothills of Mount Parnes, located to the northwest of Athens. With an imaging swath of 60 km, the SPOT satellite was able to provide complete coverage of the forests and wildfires around Athens in one single pass at 1,5m resolution.
The north wind blows the smoke back over the city, posing a threat to parts of the Mount Parnès National Park. This park, a vital green space within Attica, is home to various bird species, including Kefalonia firs, Aleppo pines and oaks.
To the west of the capital, in Aspropyrgos, an entire industrial area housing logistics platforms, refineries, factories storing chemicals and an army air base are under threat. The immense burned areas stand to a testament of the enormity of these fires.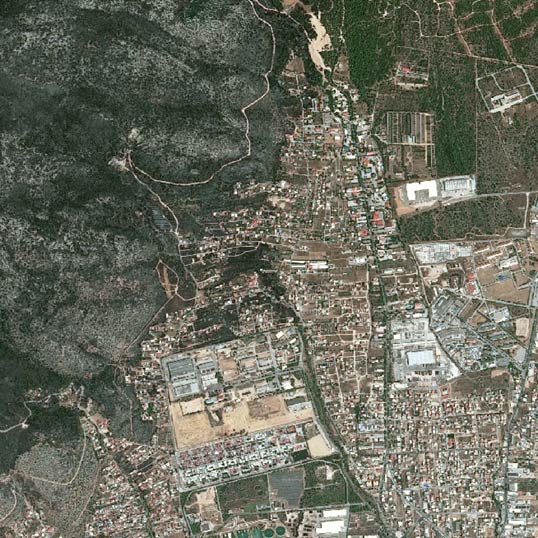 The image shows the homes and infrastructure destroyed by the fires on the outskirts of the capital.
In 2023, the fires have consumed more than 120,000 hectares across the country, according to the estimates of the Greek National Observatory. The European Forest Fire Observatory reports a magnitude three times higher than the annual average since 2006.