Timely Data Delivery is Key to AI Geospatial Analytics for Satelytics
Satelytics keeps a vigilant watch over client assets using AI-based geospatial analytics applied to a variety of remote sensing datasets. When monitored conditions exceed normal operating parameters, the Ohio firm delivers actionable intelligence in the form of easy-to-understand alerts and reports via text messages, emails, and an online portal that identify the problem, along with its location and severity.
Since its 2015 inception, Satelytics has emerged as an acknowledged leader in providing fully automated, cloud-based analytics to diverse clients worldwide. This clientele includes organizations such as power utilities, oil & gas producers, pipeline operators, regional managers of water/wastewater resources, forest/natural resource managers, and mining companies.
"Our customers all have one thing in common - assets spread across wide geographies," said Jay Almlie, Chief Marketing Officer. "This dispersed asset base demands a solution that can monitor all of their infrastructure for multiple risks, as frequently as every day."
For global collection of the multispectral and hyperspectral data required for rapid revisit monitoring, the firm leverages sensors aboard satellites, unmanned aerial systems, aircraft, and fixed cameras. The key to Satelytics' success, however, is what it does with the data. Central to its technology are more than 40 custom AI algorithms, applied to identify and measure specific situations - a leaky pipeline, right-of-way vegetation encroachments, chemical contamination, land movement, and many other risks.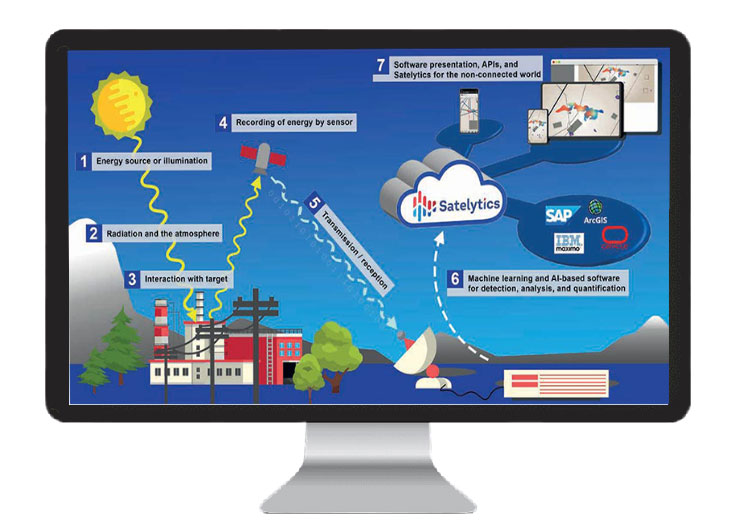 "We can analyze for many business challenges from a single data set…which maximizes our clients' investments," said Almlie.
Another capability that sets Satelytics apart is speed. Regardless of the end use, the firm has streamlined every step in its workflow to provide customers with actionable alerts as quickly as possible so the identified leak, spill, or encroachment can be corrected before it becomes a full-blown crisis. Within three hours of receiving image data, the firm delivers answers to the client.
"Superior data is a principal ingredient in producing superior, actionable results in a timely manner," said Almlie.
This healthy obsession with data quality and rapid turnaround is a primary reason Satelytics has partnered with Airbus.
"Satelytics' goal is nearly immediate results," he said. "Airbus is unique in that they have ironed out a pathway to get us the data very quickly… and offers high-resolution data in the spectral bands we need."
Currently, Satelytics relies heavily on near-infrared data from the Pléiades 1A/1B satellites for many of its projects related to vegetation conditions, hydrocarbon leaks, and chemical spills. However, the company has begun integrating near IR data from the very high-resolution Pléiades Neo data into its processing workflows to offer more detailed and more frequent monitoring to its clients.
"Ninety percent of our results [delivered to clients] comes from the near IR spectrum," said Almlie.
Despite its tremendous success in a relatively short time, Satelytics views the geospatial analytics technology as being in its infancy - with rapid evolution coming as new imaging platforms are launched. One near-term change will be the availability of intraday monitoring, thanks to constellations like Pléiades Neo. Another change will be the use of hyperspectral satellites to monitor atmospheric gases, a service Satelytics offers now and expects to grow significantly.
"Satelytics has been a pioneer in true geospatial analytics, and have applied their expertise and high accuracies to many industries," said Jen Kennedy, Senior Sales Director for Airbus, Intelligence North America. "They are solving problems that are making our Earth a better place."
See our products in action