The Pléiades Neo programme is close to becoming a reality in orbit. Follow the story about this brand-new satellite constellation, set to ensure the continuity of the Pléiades mission.
22/10/2020 The Airbus owned Pléiades Neo constellation includes four identical satellites at 30cm native resolution and is coming to the market! The first two Pléiades Neo satellites are qualified and ready to be launched early 2021. Integration of the second batch of Pléiades Neo satellites has already started and is on track for launch. The countdown has started.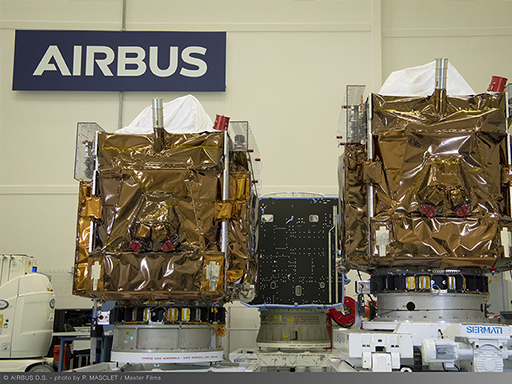 08/10/2020 The first two Pléiades Neo satellites are now qualified and ready and will soon be heading to the launch pad in French Guyana. Their launch is now scheduled for very early 2021!
23/02/2020 The first two Airbus-built Pléiades Neo imaging satellites have started comprehensive environmental testing, to ensure they are ready for in-orbit operation.
During the tests, the satellites are subjected to extreme temperatures and vacuum, vibration and acoustic noise, as well as electromagnetic interference. This will ensure they can withstand the harsh conditions they will experience during launch and their mission in orbit.