More than half of the world population will live in cities by 2050. This increasing urbanisation will have significant environmental consequences, whether it is in terms of air pollution or traffic congestion. Singapore already suffers from (at times) crippling congestion; Singaporean government thus decided to design a system of incentives and constraints to regulate traffic and reduce the impact of its burgeoning population. It aims to transform how people, security services and physical goods move around the bustling city-state.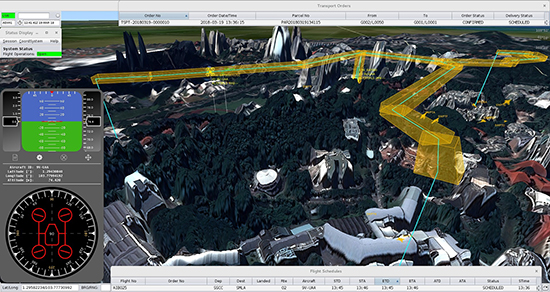 In response to these challenges, Airbus' entities (Airbus Helicopters, Airbus Aerial, and Airbus Defence and Space) have partnered with the Civil Aviation Authority of Singapore (CAAS) to launch Skyways: a project designed to provide efficient, seamless delivery of small parcels to people and facilities across cities via drones. Airbus Defence and Space - Intelligence provides the Air Traffic Management Solution to ensure the drone flies along virtual aerial corridors to avoid collision; it coordinates the flight plan and respects no-fly zones (hospital, park, etc.) while continuously tracking and monitoring the drone within the airspace, following international aviation standards. This automated package delivery system has successfully completed its first flight demonstration at the National University of Singapore (NUS).
In the future, airborne transport systems could help build businesses by making it easier to get products to customers, or even save lives by ditching the roads to airlift medical supplies across town. Later iterations could include delivering higher-value medical goods to disaster-hit regions, where roads may be impassable.
Autonomous, fast and secure delivery of low-weight parcels in congested and inaccessible areas
Ensures the safety of all airspace users and civilians whilst following aviation standards
Interfaces with ATM (Air Traffic Management) for coordination of all flights
This solution, built on global experience gained from decades of Air Traffic Control and Air Traffic Management with Airbus Fortion 1SkyControl, opens access for safe drone integration in the Airspace. The scalable concept supports full UTM (Unmanned Aircraft System Traffic Management) services to scale up and transformation to any other location and connecting to any type of drone.