WorldDEM™ for Africa
Closing Gaps
While the WorldDEMcore database is steadily growing with data ready for ordering, our database of fully edited and off-the-shelf WorldDEM™ is increasing as well. More and more countries and even entire continents are now complete: Europe, Australia – and the World's second-largest continent: Africa. See how WorldDEM supports the energy & hydro power sector and can be of assistance for mapping, planning, engineering activities on the continent of contradictions.
Reliable Planning and Operation of Exploration Projects
Africa is richly endowed with mineral reserves and ranks first or second in quantity of world reserves of cobalt, platinum, gold, chromium and uranium. Gold mining is Africa's main mining resource. In North Africa, the oil and gas production is an important industrial sector. How can WorldDEM support your exploration applications here?

WorldDEM delivers reliable terrain information to assess potential exploration sites, support seismic planning, develop scouting activities, facilitate geophysical surveying and evaluate potential environmental impact of activities
Seamless high-quality DEMs even for remote and difficult-to-access locations for geological prospecting and feasibility studies
Dependable terrain information for planning and implementation of infrastructure & pipeline routes
Auxiliary information for oil & gas fields management
Mahenge is a limestone plateau area in the Morogoro Region, Tanzania. The forest reserve, called the Mahenge Scarp Catchment Forest Reserve, was established in 1954. This forest has been heavily encroached upon for illegal logging and a planned graphite factory. There is also some mining of ruby gem stones.
Execution of Complex Civil Engineering Projects
WorldDEM is specialised in helping customers to successfully execute complex industrial and infrastructure projects, e.g. to assess the best routing options for a pipeline corridor or to implement a railway development project. There are more than 30 dams and barrages along the Nile, amongst them some are used for power generation. There is no functional network of railroads existing across the continent.
WorldDEM provides accurate information about the natural and built environment, including object elevation, infrastructure, vegetation and water bodies
Reliable and precise reference layer for planning and assessment of operations in-the-field - even in remote / difficult / hostile areas
The Gariep Dam, the largest storage reservoir in South Africa, is a concrete hybrid dam: this arch-gravity dam resists the thrust of water by its weight using the force of gravity and the arch action. It is a dam that curves upstream in a narrowing curve that directs most of the water against the rock walls, providing the force to compress the dam. At 914 meters long and 88 meters high, the Gariep Dam stores the waters of the Orange River over an area of 374 km². Its primary purpose is for irrigation, domestic and industrial use as well as for power generation.
Sutherland, South Africa: The topography is characterised by the Roggeveld Mountain range which is part of the Large Karoo. In 2005 the Southern African Large Telescope (SALT), the largest single optical telescope in the southern hemisphere, was installed here.
WorldDEM Data for Flood Modelling
Flooding affects human populations in coastal and island regions as well as marine and terrestrial ecosystems. Reliable and precise elevation data support the preparedness planning for potential natural disasters and assist rescue mission planning. The length of the African coastline is about 30,000km and also the Nile river bursts its banks on a regularly basis. Detailed elevation data of the coastal regions can support to determine areas prone to inundation.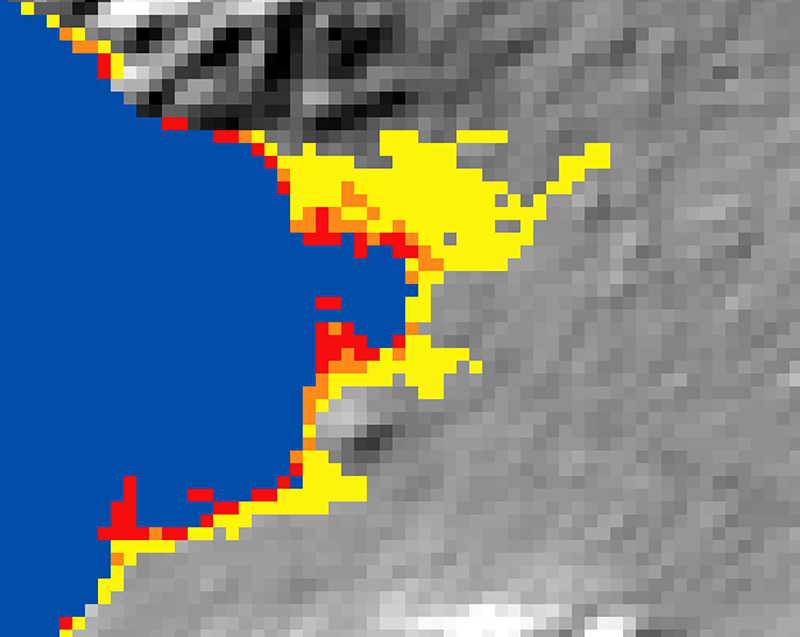 SRTM Data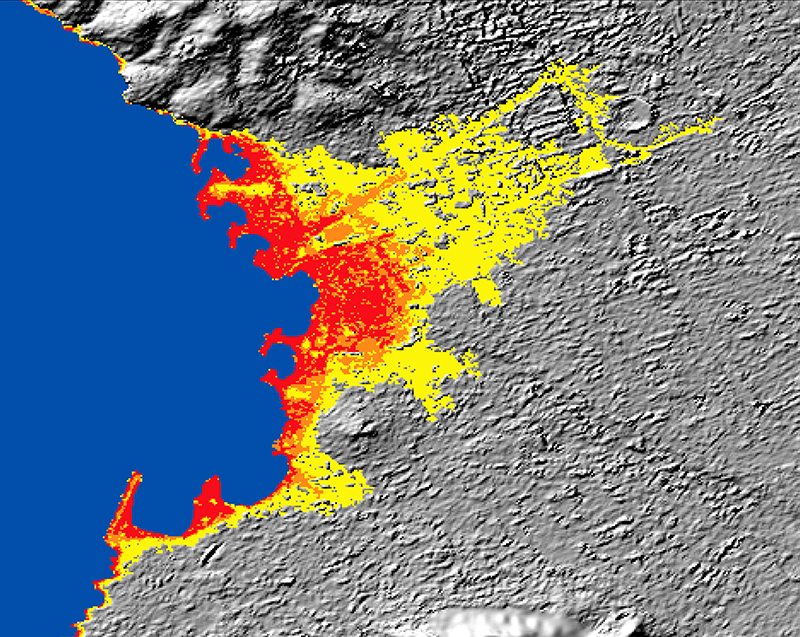 WorldDEM™
Comparison of Sea Level Rise scenarios: Results for SRTM data and WorldDEM for a sea level rise of 3m (red), 5m (orange) and 10m (yellow) respectively.