What's New in GeoStore?
We continuously develop our GeoStore in order to offer you the best possible online experience. Stay up to date on the latest improvements in GeoStore.
January 2018
In one click, you can now see the available product layers covering your AOI. To do this, select your product

(Spot, Pleiades, WorldDEM…) which will be highlighted in yellow and the coverage layer will also appear highlighted in yellow on the map.
You can also display the global coverage of the products by clicking the

button, it will appear in white (see example below).

You can now add credential layers to your choice in GeoStore.
First of all, click on the "Add layer"
button.
Then choose the type of layer and copy the URL of the layer into the Reference part.
Finally, you need simply give a name to your new Layer. If this requires a login/password you can enter them by activating the "Access code"
part and inserting your login and password.
An example for the OneAtlas layer is given below:

In GeoStore, you can now see the time left before your One Tasking order expires. This will enable you to make sure that you complete your One Tasking order on time. Once this time has expired, your order will be cancelled and you will have to repeat your request with new programming times.
The countdown will be automatically activated in your cart 15 minutes before your order expires.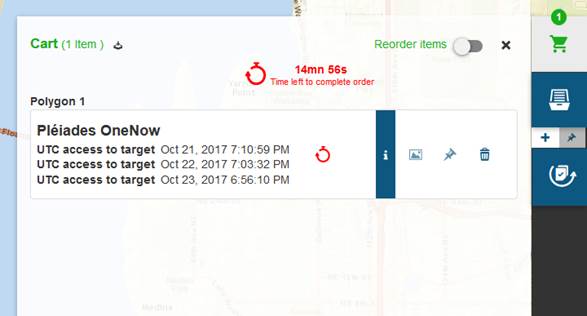 You can now directly see why your polygon is not eligible for the One Tasking offer. You can immediately access the applicable min. or max. limits.
You can thus modify your polygon

in order to comply with the One Tasking specifications.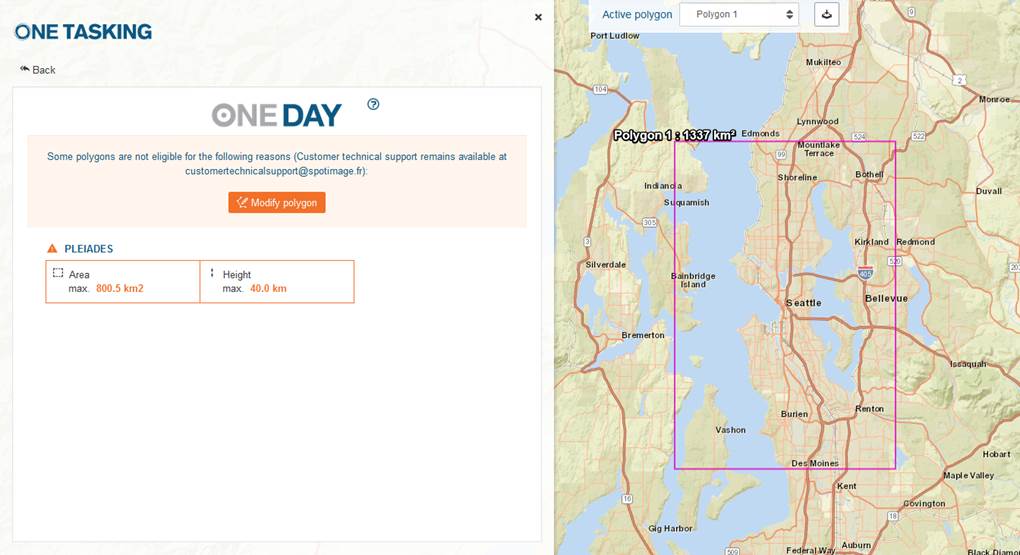 July 2017
You can now search and request a quotation for DMC Constellation archive products alongside the rest of the portfolio.
This extensive archive of medium resolution imagery going back to 2004 provides an ideal dataset for time-series analysis and change detection.