Data Access & Management
As the amount and quality of available geospatial data grow, easy data access and efficient data management become the key to successful operations.

At Airbus Defence and Space, our geo-intelligence experts understand that the true value of our commercial geospatial portfolio lies not merely in the quality of our imagery, but also in how easily our customers can access and manage this data.

Hence, we are offering a range of sophisticated data access and data management solutions, suitable for a variety of business needs.
Direct Reception Services
A Constellation Direct Receiving Station gives you preferred access to optical and radar satellites that are operated by Airbus Defence and Space. The data is delivered directly from the satellite to your very own ground station.
Be the first to obtain geographic information over your territory, which can be tailored to accommodate your application needs no matter what industry you're in.
Data Management Solutions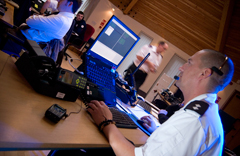 Airbus Defence and Space provides data hosting, management and maintenance services of geospatial data for government and commercial clients. This data is held in data centres managed by Airbus Defence and Space.