En route to an unrivalled constellation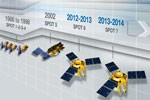 More responsiveness, more flexibility, more services: the year 2012 is a great start for the new optical satellite constellation we are building to bring our customers the best that space technology has to offer and ensure continuity of service up to 2023. Pléiades 1A is now in orbit, delivering outstanding images that will be soon available to end-users worldwide, while SPOT 6 is now under final testing phase, for a launch scheduled in September 2012.
With Pléiades 1B ready for launch right after SPOT 6, and SPOT 7 in the integration room, all is now set to make this four-satellite true constellation!
Ideal match of detail and coverage
Increasing resolution often means reducing the acquisition capabilities, with a smaller imaging swath resulting in a difficult trade-off between swath and spatial resolution. The upcoming constellation offers an ingenious solution to this recurring issue, combining the very-high-resolution Pléiades 1A and 1B twin satellites that deliver imagery products with a resolution of 50 centimetres and the high-resolution SPOT 6 and 7 satellites, designed to extend SPOT 5's success combining a wide swath to the 1.5-m product family.
All imagery will be orthorectified automatically using Astrium Services' global DEM, enabling a perfect geometric match between all images and any kind of combination. Mixing and matching data at different resolutions will greatly help GIS projects involving multi-source or multi-date data and pave the way for new products such as a multi-layer version of SPOTMaps, meaning off-the-shelf nationwide mosaics with a level of detail adapted to land use (e.g. with a finer level of detail over built-up and critical areas than over rural areas).
The right information at the right time
Good imagery is of little value if you can't get it when you need it. The four satellites will be phased 90 degrees apart in the same orbit, thus building a true constellation. This feature, coupled with the ability to view off track up to 30 or even 45 degrees, offers a twice-daily revisit capability. To make the most of this repeat imaging potential, constellation tasking will be updated and uploaded several times a day. As a result, it will be possible to schedule requests up to two hours before each satellite pass and to fully leverage updated weather forecasts to improve data collection success rate.
This responsiveness, combined with an innovative e-business portal and a worldwide network of partners operating more than 40 receiving stations around the globe, guarantees exceptional service and local support to our customers around the globe.
The consecutive launches of Pléiades 1A and 1B and SPOT 6 and 7 signal a paradigm shift for Astrium GEO-Information Services. Ready to enter the very-high-resolution market, we are developing our role as a multi-sensor distributor operating a coherent, optimized, multi-resolution constellation that will deliver a higher level of service to support your business better than ever before.
See Also...
GEOElevation Services
Highly Accurate Elevation Data Worldwide
SPOTMaps
Synoptic Picture and Local Detail
Pléiades
Very High Resolution Imagery
En route to an unrivalled constellation