First SPOT 6 Equipment Arrives in the Cleanroom
November 2010
The arrival of the SPOT 6 mechanical structure at Astrium Toulouse in November 2010 marks the start of the satellite integration phase. In a year, it will be fully assembled and ready for thermal, electromagnetic and stress tests as well as tests in the conditions of space.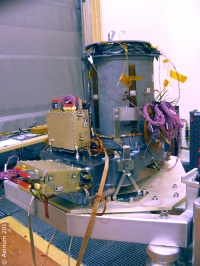 SPOT6 telescope
First telescope complete
Integration and adjustment of the first of the two SPOT 6 telescopes is already complete.
It is now at the test phase, where its optical and electronic performance is measured. The optical assembly is based on a Korsch telescope with an aperture diameter of 200 mm.
Batteries and propulsion module
Other equipment is already available for integration with SPOT 6, such as the batteries and the mono-propellant propulsion module, which will allow the satellite to maintain its orbit.
The rest of the equipment will be progressively delivered through to autumn 2011. Each piece will be assembled on the SPOT 6 mechanical structure, as it arrives.