Satellitenbilder der Katastrophe in Japan
Astrium GEO-Information Services makes its satellite imagery experts available to the international community
Sofort nach Meldung des Erdbebens in Japan am 11. März 2011 und des anschließenden Tsunami wurden alle von Astrium GEO-Information Services genutzten Satelliten programmiert, um mit ihren Daten die Rettungsmaßnahmen in den betroffenen Gebieten unterstützen zu können - mit Situationsanalysen und Überwachungen, Vorher-Nachher-Analysen und post-seismische Bewertungen.
SPOT 5 im Katastropheneinsatz
Der von der International Charta Space and Major Disasters aktivierte SPOT 5 konnte dank seiner großen Abtastbreite bereits am 12. und 13. März 2011 Bilder der gesamten von Erdbeben und Tsunami betroffenen Küste liefern. Die Aufnahmen decken die Stadt Sendai und die drei Kernkraftwerke der Region ab. SPOT ist nach wie vor für Aufnahmen des Gebietes programmiert.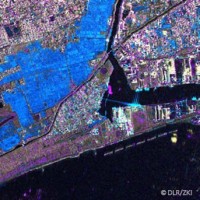 TerraSAR-X-basierte Situationsanalyse und geophysikalische Auswertungen
Der ebenfalls von der Internationalen Charta aktivierte Radarsatellit TerraSAR-X hat regelmäßig Daten an die Empfangsstationen in Europa sowie direkt nach Japan übertragen, wo unser japanischen Partner PASCO sie nutzt, um Schäden zu analysieren und die Entwicklungen zu verfolgen.
Des Weiteren wird TerraSAR-X noch weitere drei Monate lang Daten im StripMap-Modus (3m Auflösung) in der Region um Sendai erfassen. Diese Daten sind besonders gut geeignet, um die post-seismischen geophysikalischen Entwicklungen zu analysieren und werden über die so genannte GEO Geohazards Supersite ebenfalls der Wissenschaftsgemeinde kostenfrei zur Verfügung gestellt.
FORMOSAT-2 and GO Monitor
Der satellitengestützte Monitoringservice GO Monitor erfasst täglich das verunglückte Kernkraftwerk Fukushima Daiichi. Die Experten von Astrium Services nutzen die Aufnahmen von FORMOSAT-2 (2m Auflösung) für ihre Analysen. Die täglichen Berichte werden Nutzern und Medien nach einer Anmeldung bei SPOTMonitoring gratis bereit gestellt.
Satellitendaten Japan Katastrophe