Die Pléiades Konstellation ist 5 Jahre alt
Fünf bedeutende Ereignisse unserer Zeitgeschichte in sehr hoher Auflösung
Pléiades 1A wurde am 17. Dezember 2011 gestartet, ein Jahr später folgte Pléiades 1B. Die beiden von Airbus Defence and Space gebauten und betriebenen Satelliten befinden sich in derselben Umlaufbahn, jedoch um 180° versetzt. Mit einer täglichen Wiederholrate bieten sie unseren Kunden eine Erfassungsmöglichkeit innerhalb von 24 Stunden und erlauben eine intensive Überwachung von jedem Ziel auf der Erde. Sie liefern in Rekordzeit Produkte mit einer Auflösung von 50 cm.
Zu diesem Jubiläum werden fünf bedeutende Ereignisse unserer Geschichte vorgestellt, von denen Pléiades Zeuge war. Sie erzählen unsere zeitgenössische Welt und beschreiben dabei die einmalige Rolle der Erdbeobachtungssatelliten.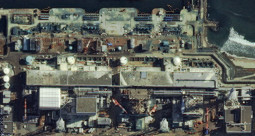 2011 Tsunami und Fukushima
Ein Jahr nach dem Erdbeben und dem Tsunami an der japanischen Ostküste zeigt der Pléiades Satellit das Fukushima Kernkraftwerk.
2013 Taifun Haiyan auf den Philippinen
Airbus Defence and Space lieferte Satellitenbilder, um die Rettungsdienste nach dem Taifun Haiyan zu unterstützen.
2013 Bergung der Costa Concordia
Pléiades verfolgte am 17. September 2013 in 695 km Höhe über der Erde die Aufrichtung der Costa Concordia vor der Insel Giglio.
Mehr darüber
Zerstörung des Baalschamin-Tempels in Palmyra
Die Pléiades Programmierung im Prioritätsmodus OneNow gab schnelle Auskunft über die unzugänglich gewordene archäologische Stätte. Die Pléiades Satellitenaufnahmen bestätigten die Zerstörung des Baalschamin-Tempels in Palmyra.
Sportanlagen in Rio de Janeiro
Drei Jahre lang wurde Pléiades mobilisiert, diese großen Stadtplanungsarbeiten im Barra da Tijuca Viertel zu verfolgen, zu überwachen und darzustellen, wobei es sich um eine der vier Stätten handelt, die für die internationalen Wettbewerbe 2016 in Rio de Janeiro eingerichtet wurden.
Mehr darüber

Die Pléiades Konstellation ist 5 Jahre alt