TerraSAR-X Direct Access Services
Der schnellste Weg zu TerraSAR-X Daten
Dank der Direct Access Services von Airbus Defence and Space können ausgewählte Partner und Kunden weltweit TerraSAR-X Daten direkt an ihrer Bodenstation empfangen.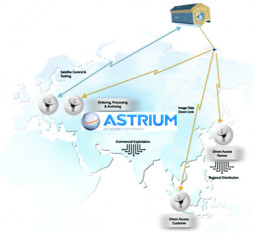 Dieser Direct Access Service wird exklusiv von der deutschen Tochter von GEO-Information Services, der Airbus DS Geo GmbH, bereitgestellt. Auf Grundlage einer speziellen Servicevereinbarung zwischen Infoterra und dem Direct Access Customer (DAC, Direct Access Kunde) oder Direct Access Partner (DAP, regionaler Vertriebspartner) wird eine Direct Access Station (DAS) installiert und mit der erforderlichen Ausrüstung ausgestattet, die im Direct Access Terminal (DAT) enthalten ist. Sollte der Partner bereits eine Bodenstation betreiben, kann diese einfach mit einem DAT aufgerüstet werden, um den direkten Empfang von TerraSAR-X Daten zu ermöglichen.
Falls Sie am Direct Access Services interessiert sind und weitere Informationen wünschen, kontaktieren Sie bitte das Marketing & Sales Team von Airbus Defence and Space per E-Mail. Die Mitarbeiter geben Ihnen gern detaillierte Informationen zu den Konditionen und Verträgen.
TerraSAR-X Direct Access Service