Vorstellung von Oceanway
Komplettlösung für Kunden aus dem Bereich der Meeressicherheit
Mit Oceanway kann Airbus Defence and Space eine Komplettlösung anbieten, die alle Abläufe von der Satellitenprogrammierung über die Bereitstellung von Informationen bis zur Visualisierung für Anwendungen im Bereich der Meeressicherheit miteinander kombiniert.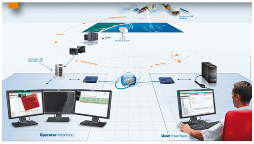 Dank der Komplettlösung Oceanway können Einsatzzentren Informationen zur Meeressicherheit sicher, dynamisch und schnell abrufen.
Der Dienst ist speziell auf die Anforderungen von Strafverfolgungsbehörden ausgerichtet, die für die Bekämpfung illegaler Aktivitäten auf dem Meer zuständig sind, wie z. B. illegaler Fischfang, Drogenhandel, illegale Einwanderungen oder die Entsorgung von Öl.
Hauptvorteile
Überwachung großflächiger Gebiete sowie Lageeinschätzung mithilfe zahlreicher Erdbeobachtungssatelliten
Einzigartiger Zugang zu optischen und SAR Satellitendaten sowie den Programmierungskapazitäten
Umfangreiches Fachwissen der Meeresexperten von Airbus Defence and Space in den Bereichen Analyse der Nutzeranforderungen, Auswertung von Meeresaufnahmen, Feedback-Analyse und Weiterentwicklung von Diensten
Bereitstellung von Nahe-Echtzeit-Informationen innerhalb von < 30 Minuten nach Datenerfassung
Ergänzung zu vorhandenen Überwachungssystemen
Schnell einsetzbare Informationen
Oceanway wurde speziell entwickelt, um eine schnelle Extrahierung und Bereitstellung von Informationen aus optischen Satellitenaufnahmen innerhalb von nur 30 Minuten nach der Erfassung zu ermöglichen. Während der Analyse der Aufnahmen durch Airbuses Defence and Space Experten zur Auswertung von Meeresaufnahmen werden Informationen zu identifizierten Schiffen dynamisch und kontinuierlich an den Nutzer übertragen. Dadurch können die Kunden Informationen zu besonders interessanten Gebieten zuerst extrahieren und kurzfristig die erforderlichen (Gegen-)Maßnahmen einleiten, ohne auf die vollständige Analyse der gesamten Satellitenaufnahme warten zu müssen.
Oceanway kann zusätzlich zu optischen Aufnahmen auch Informationen aus SAR Satellitendaten integrieren, analysieren und bereitstellen. Somit ergänzt Oceanway optimal Airbus Defence and Space's integrierte maritime Dienste auf Basis von optischen und Radarsatellitendaten.