La Constellation Pléiades a 5 ans
Cinq événements marquant de notre histoire contemporaine en très haute résolution
Pléiades 1A est lancé le 17 décembre 2011, il est rejoint par Pléiades 1B un an plus tard. Les deux satellites, construits et opérés par Airbus Defence and Space, sont placés sur la même orbite, à 180° l'un de l'autre.Dotés d'une capacité de revisite quotidienne, ils offrent à nos clients une opportunité d'acquisition dans les prochaines 24h et permettent de surveiller quotidiennement et intensivement toute cible en tout point du globe. Ils fournissent des produits à 50 cm de résolution dans un temps record.
Pour cet anniversaire, cinq événements sont présentés, cinq faits marquant de notre histoire sur lesquels Pléiades a apporté un point de vue essentiel. Ils racontent notre monde contemporain mais aussi ils décrivent le rôle unique des satellites d'Observation de la Terre.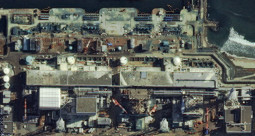 2011 Tsunami et Fukushima
Un an après le séisme et le tsunami sur la côte-est du Japon, le satellite Pléiades intervient sur la centrale nucléaire de Fukushima.
2013 le typhon Haiyan sur le Philippines
Airbus Defence and Space fournit des images satellitaires pour aider les secours après le passage du typhon Haiyan.
2013 Redressement du Costa Concordia
Pléiades assiste le 17 septembre 2013, depuis son orbite à 695 km au-dessus de la Terre au redressement du Costa Concordia au large de l'Ile de Giglio.
En savoir plus
Destruction du temple de Bêl à Palmyre
La programmation en mode prioritaire OneNow rend compte rapidement de la situation sur le site archéologique devenu inaccessible. Les images satellites Pléiades confirment la destruction du temple de Bêl à Palmyre.
Installations sportives de Rio de Janeiro
Pléiades a été mobilisé depuis plus de trois ans pour suivre, observer et promouvoir ces grands travaux d'aménagement urbains sur le quartier de Barra da Tijuca, l'un des quatre sites aménagés pour accueillir les compétions sportives internationales de 2016 à Rio de Janeiro.
La Constellation Pléiades a 5 ans