Oceanway
Une solution opérationnelle clé en main au profit de la sécurité et sûreté maritime
Le service Oceanway d'Airbus Defence and Space est une solution intégrée couvrant le cycle complet de la programmation de satellites jusqu'à à la livraison des informations au profit d'applications maritimes.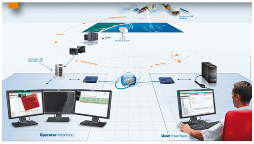 Oceanway est une solution clé en main permettant de fournir de façon sécurisée, dynamique et rapide des informations sur la sécurité et la sûreté maritime aux centres d'opérations.
Ce service est spécifiquement adapté aux besoins des autorités en charge de l'action de l'Etat en mer, chargées de lutter contre les activités maritimes illégales, comme la pêche sauvage, le narcotrafic, l'immigration clandestine et le dégazage.
Principaux avantages
Observation et situation de surface étendues, grâce à une flotte complète de satellites d'observation de la Terre
Accès unique aux données des satellites optiques et SAR et à la capacité de programmation
Compétences et expérience des experts maritimes d'Airbus Defence and Space en matière d'analyse des besoins des utilisateurs, interprétation d'images maritimes, analyse des retours d'expérience et évolution de service
Fourniture de l'information en temps quasi réel (moins de 30 mn)
Complément des moyens de surveillance existants
Des informations opérationnelles rapidement exploitables
Oceanway est spécifiquement conçu pour permettre une extraction des informations issues de l'imagerie satellitaire et une livraison rapide dans un délai de seulement 30 minutes après acquisition d'images. Au cours de l'analyse réalisée par les photo-interprètes d'Airbus Defence and Space, les informations concernant chaque navire détecté peut-être transférée de façon continue à l'utilisateur. Ce mode opératoire permet au client d'extraire les cibles sur des zones d'intérêts spécifiques et de lancer rapidement les actions nécessaires (interception grâce aux moyens sur le terrain) avant la fin de l'analyse complète de l'ensemble de l'image satellite acquise.
Outre l'imagerie optique, Oceanway permet également d'intégrer, d'analyser et de livrer des informations issues de données des satellites SAR, étoffant ainsi considérablement les services maritimes intégrés d'Airbus Defence and Space.