La constelación Pléiades cumple cinco años
Cinco eventos que marcaron nuestra historia contemporánea en muy alta resolución
Pléiades 1A fue lanzado el 17 de diciembre de 2011 y un año más tarde se le unió Pléiades 1B. Los dos satélites, construidos y operados por Airbus Defence and Space, se encuentran sobre la misma órbita, a 180° uno de otro. Dotados de una capacidad de revisita diaria, ofrecen a nuestros clientes la oportunidad de adquirir una imagen en las siguientes 24 horas y permiten vigilar diaria e intensivamente cualquier objetivo sobre cualquier punto del planeta. Suministran productos con una resolución de 50 cm en un tiempo récord.
Con motivo de este aniversario, se presentarán cinco acontecimientos, cinco hechos que marcaron nuestra historia, sobre los cuales Pléiades aportó un punto de vista crucial. Cuentan la historia de nuestro mundo contemporáneo, pero también describen el rol único de los satélites de observación de la Tierra.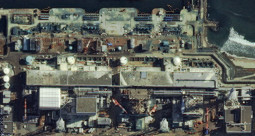 2011 Tsunami y Fukushima
Un año después del seísmo y el tsunami que asoló la costa este de Japón, el satélite Pléiades intervino sobre la central nuclear de Fukushima.
2013 El tifón Haiyan sobre Filipinas
Airbus Defence and Space suministró imágenes satelitales para ayudar a los servicios de emergencia tras el paso del tifón Haiyan.
2013 Reflote del Costa Concordia
El 17 de septiembre de 2013, Pléiades asistió desde su órbita a 695 km por encima de la Tierra al reflote del Costa Concordia junto a la isla de Giglio.
Para saber más
Destrucción del templo de Bel, en Palmira
La programación en el modo prioritario OneNow dio cuenta rápidamente de la situación en el sitio arqueológico, al que ya no se puede acceder. Las imágenes satelitales Pléiades confirmaron la destrucción del templo de Bel, en Palmira.
Instalaciones deportivas de Río de Janeiro
Pléiades se movilizó durante más de tres años para seguir, observar y promover estas grandes obras de acondicionamiento urbano en el barrio de Barra da Tijuca, uno de los cuatro lugares acondicionados para acoger las competiciones deportivas internacionales de 2016 en Río de Janeiro.
Para saber más

La constelación Pléiades cumple cinco años