Inicio de la comercialización de SPOT 7
ya está completa la constelación de satélites de Airbus Defence and Space
Nos complace poder anunciar que las imágenes de alta resolución de SPOT 7 ya están a disposición de todos los usuarios.
Junto a SPOT 6, Pléiades 1A/1B, TerraSAR-X y TanDEM-X, SPOT 7 abre oportunidades a nuevas aplicaciones, proporcionando nuevas imágenes con un intervalo de tiempo sin precedentes.
Con este lanzamiento comercial ya está completa la constelación de satélites de Airbus Defence and Space, que le ofrece el compromiso perfecto entre resolución y cobertura para lograr la profundidad de detalle que necesita.
¡Visite hoy mismo nuestro GeoStore para encargar imágenes de SPOT 7!
SPOT 6 & SPOT 7 demuestran sus capacidades
Eficiente cobertura bisatélite
Se cubrió toda Zambia en sólo siete semanas
A SPOT 6 y SPOT 7 se les asignó la tarea de cubrir Zambia, un país de 770.000 km2.
En sólo siete semanas se había capturado la totalidad del territorio con una cubierta nubosa inferior al 5%.

¡En un mes se capturó toda California!
Se programaron SPOT 6 y SPOT 7 para que cubrieran el estado de California (407.754 km²)
En sólo un mes se capturó el 100% del territorio, con una cubertura nubosa inferior al 10%.
Cobertura diaria en un solo paso
100.000 km² en menos de cinco minutos
En un solo paso de satélite y en menos de cinco minutos se capturaron cinco franjas de imágenes norte-sur, de 330 km de longitud y 60 de ancho que abarcan un área de 10.000 km2.
La constelación SPOT 6 y SPOT 7 está específicamente diseñada para hacer un seguimiento eficiente y diario de grandes áreas. Esta capacidad los hace particularmente útiles para aplicaciones marítimas, como operaciones de búsqueda y rescate o seguimiento de la contaminación marina.
La solución ideal para cartografía nacional a escala 1:25.000
Un mapa topográfico a escala 1:25,000 en un tiempo récord
Airbus Defence and Space elaboró un mapa topográfico a escala 1:25.000 de la zona de Lhasa, en Tíbet, basándose en imágenes estereoscópicas de SPOT 6 interpretadas mediante restitución fotogramétrica.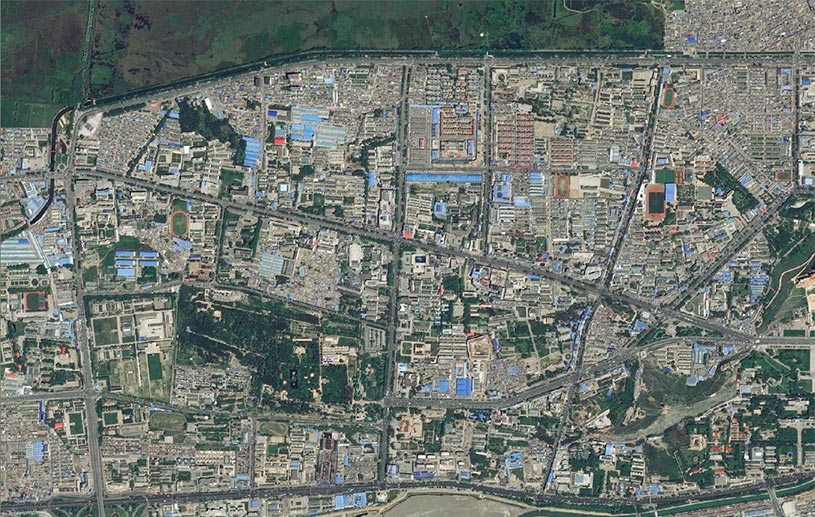 Satellite Image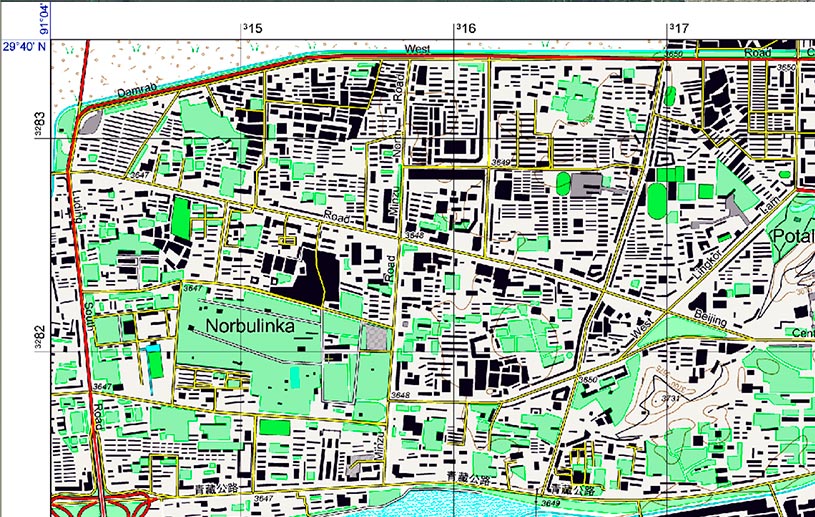 Topographic Map
Inicio de la comercialización de SPOT 7