Oceanway
Una solución integral llave en mano para la seguridad y la protección marítimas
La oferta Oceanway de Airbus Defence and Space es una solución integral llave en mano que cubre todo el ciclo de la información para aplicaciones marítimas, desde la programación del satélite hasta la entrega y la visualización.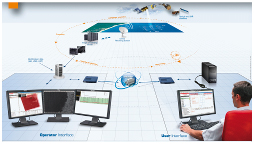 Oceanway es una solución llave en mano que brinda información sobre la seguridad y la protección marítimas de forma rápida, dinámica y precisa a todos los centros operativos.
Un servicio pensado especialmente para satisfacer las necesidades de los órganos encargados de velar por el cumplimiento de la ley y luchar contra toda clase de actividades marítimas ilícitas: pesca ilegal, tráfico de drogas, inmigración ilegal y vertidos de petróleo.
Ventajas principales
Observación de superficies extensas y conocimiento de su situación gracias a una amplia gama de satélites de observación de la Tierra
Acceso único a satélites ópticos y SAR, con posibilidades de programación
Sólida experiencia de los profesionales de Airbus Defence and Space especializados en la observación marítima (análisis de las necesidades de los usuarios, interpretación de imágenes, retroalimentación y adaptación del servicio)
Entrega de la información casi en tiempo real (menos de 30 min)
Complementación de los medios de vigilancia existentes
Información operativa casi instantánea
Oceanway está diseñada para facilitar una extracción y entrega rápida de la información adquirida por satélite en apenas 30 minutos. Los analistas de imágenes marítimas de Airbus Defence and Space envían a sus usuarios la información sobre las embarcaciones de forma dinámica y contínua. De esta manera, los clientes pueden extraer enseguida la información sobre sus áreas de interés prioritarias y tomar rápidamente las medidas que correspondan, sin tener que esperar a que acabe el análisis completo de las imágenes de satélite.
Además de las imágenes ópticas, Oceanway incorpora, analiza y brinda información generada a partir de datos SAR, contribuyendo así a lograr una mejor integración de la totalidad de los servicios marítimos de Airbus Defence and Space.