SAFEcommand™
Software Solutions for Public Safety & Homeland Security Operations
Over the last ten years Airbus Defence and Space has significantly invested in the development of innovative software solutions specifically designed to address the modern challenges faced by public safety and emergency organisations.
The SAFEcommand™ team has successfully provided services and solutions to emergency services organisations for more than 20 years.
SAFEcommand™ can help public safety and emergency organisations deliver on their critical Duty of Care objectives through the provision of real-time location intelligence for staff and vehicles, integrated operations planning and response as well as full mobile data and satellite communications.
Key Features and Benefits
Access up-to-date and accurate information

Improved response times

Easy-to-use, intuitive GIS-based systems

Central system for effective data consolidation and management prior to deployment to frontline resources

Supports multi-agency data sharing

Accurate real-time location of resources

Seamless delivery of critical risk information to mobile resources

Efficient and flexible contingency planning and emergency response solution

Real-time mobile data communication

Supports third-party data sources to alleviate the need to re-input pre-captured
informationSupport for international languages, global mapping and coordinate systems
Powerful Integrated Software solutions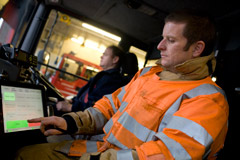 The SAFEcommand™systems and software suite addresses four essential areas
Operational Data Management - Back-office software applications enabling frontline personnel to manage and rapidly access up-to-date and accurate information for emergency and operational needs
Automated Resource Location (asset tracking) - Provides the control room access to digital seamless mapping for an entire operational area, displaying location of risk premises, incidents, Command and Control critical locations and also tracking mobile resources
Mobile Data Communications systems - Solution ensuring the effective deployment of Command & Control information to mobile resources in the field including software systems for mobile use in vehicles
Emergency Preparation and Response - Efficient and flexible solution for the creation of contingency plans and emergency response, supporting multi-agency data sharing
The SAFEcommand™ product suite forms a core framework in which products are stand-alone but can also be implemented together as an overall solution. In both situations, products will be tailored to satisfy specific requirements regarding functionalities and operational processes.
We want to be the best fire and rescue service in the country, and are committed to making life safer for everyone by reducing risks in our local communities. As part of this drive we decided to implement SAFEcommand™ as it will dramatically speed up the time taken to update our records, and ensure that our front line staff have access to critical information that can enable faster responses in emergency situations."
Paul Ingoldsby
Data Manager, Hampshire Fire and Rescue Service
Airbus Defence and Space is a Solutions Provider for TomTom Telematics
This partnership helps to strengthen the SAFEcommand™ product suite by bringing increased utility and reliability to the ScGateway TomTom Adaptor module, which allows customers to integrate TomTom WEBFLEET devices directly into their mobile data system.