Infrastructure & Engineering
Infrastructure Design, Development and Asset Management
The ability to visualise & evaluate the impact on the surrounding environment is crucial to design, build and manage successful projects. High quality geospatial information is vital to engineers, surveyors, designers and architects.

To support successful project delivery, Airbus Defence and Space offers accurate, real-world data and geospatial solutions, allowing improved decision analysis at all engineering project stages - from initial planning through to detailed design & ongoing asset management.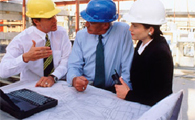 Airbus Defence and Space has been delivering projects to the worldwide Engineering community for over 20 years.
Our products and services support
feasibility studies,
design,
build,
regeneration projects
for roads, railways and waterways. Additionally, we supply data for flood modelling, visualisation, impact assessment and also to monitor surface movements.
Your gateway to global geo-information and insight for Infrastructure design and implementation
Whether it is providing you with satellite imagery, satellite derived information or accurate elevation data, our approach is to work in partnership with each of our customers in order to provide the right geospatial data solutions.
Satellite Data
Access to all major satellite imagery data, complementing Airbus Defence and Space optical and SAR sensors, including Very-High-Resolution Pléiades imagery and the existing SPOTMaps archive of country wide mosaics of SPOT 5 satellite imagery giving a cost effective and expedient solution to support the initial planning phase of infrastructure development
Airbus Defence and Space Geo-Spatial Data (TerraSAR-X imagery) used to support Surface Movement Monitoring for the underground construction in Budapest
Terrain Elevation Data
The GEO Elevation product range provides highly accurate terrain elevation data worldwide, whatever the relief and weather conditions.
- Resolution from 30m down to 1m
- Uses both spaceborne optical and radar
Topographic Mapping
Using either satellite or aerial imagery as the source material, Airbus Defence and Space can provide detailed topographic mapping from scales of 1:500 to 1:250,000, with fully structured data layers for import into all major design and GIS software packages, such as AutoCAD DXF/DWG, MX GENIO and ArcInfo.
TerraSAR-X Imagery Data sets for Surface Movement Monitoring
Detection and quantification of railroad displacements, documentation of surface movements related to underground subway construction, infrastructure construction impact