New Processing Options for Pléiades and SPOT 6/7 Products
Starting in February 2017, there are new geometric and radiometric processing options available for SPOT and Pléiades imagery including: Projected, Reflectance and Display options. These options were released through every ordering channel including Customer Service and GeoStore.
New Geometric Processing: Projected
The image acquired in the plan of the sensor is projected on a cartographic or geographic terrestrial plan. The plan is defined with a constant altitude, which is the mean height value over the area of interest. Projected products inherit all radiometric and geometric corrections of the Primary level (external orientation). Associated geometric model is described in RPC file, directly ingestible into image processing and analysis software.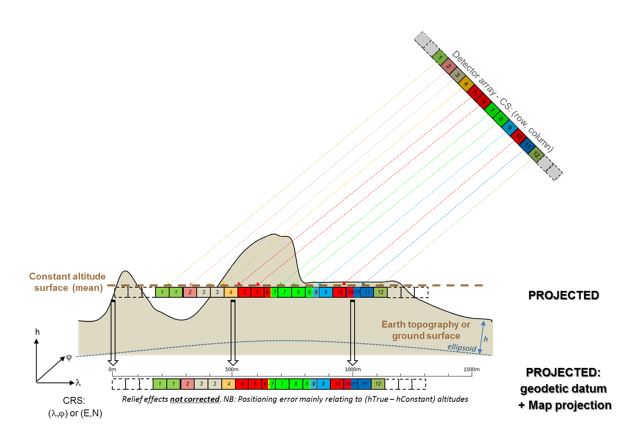 Key Benefits:
Directly compatible within any GIS environment
This option allows for easier orthorectification by users who use their own reference layers (Ortho, GCPs and DEM…) thanks to geometric model described in RPC file embedded
New Radiometric Processing: Reflectance
The image is radiometrically corrected from sensor calibration and systematic effects of the atmosphere (molecular or 'Rayleigh' diffusion). Cloud, cloud veil, haze, aerosol (pollution, sand wind) remain. Image values are provided in normalised reflectance values with a 1/10,000 ratio.
Key Benefits:
Corrects the bluish effects from atmosphere, so that colours are reliable and true
Ensures better stability of luminosity/contrast on screen
Prepares end users for seamless coverage (e.g. mosaicking)

New Radiometric Processing: Display
This is the new OVR processing option, generated on a new algorithm based on the Reflectance product. 8-bit pixel coding should be preferred.
Key Benefits:
Should be used when imagery needs to be immediately usable with optimised visual rendering.
Optimised for display on screens (8bit)
New Processing Options for Pléiades and SPOT 6/7 Products