The Pléiades Constellation is 5 years old
Five major events in our history in 50cm resolution.
Pléiades 1A was launched on 17 December 2011 and was joined by Pléiades 1B a year later. The two satellites, built and operated by Airbus Defence and Space, are positioned in the same orbit, at 180° from each other. With an intraday revisit capability, they offer our customers the opportunity to collect imagery multiple times within 24h and allows for intense daily monitoring of any target anywhere on the planet. They provide products with 50 cm resolution in record time.
For this anniversary, five major events in our history are shown , showing crutial viewpoints. They tell the story of our contemporary world, but also describe the unique role played by Earth Observation satellites.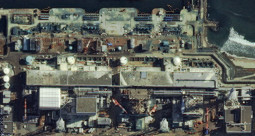 2011 Tsunami and Fukushima
One year after the earthquake and tsunami on Japan's east coast, the Pléiades satellite views the Fukushima nuclear power plant.
2013 typhoon Haiyan in the Philippines
Airbus Defence and Space provided satellite images to help with the rescue operation in the wake of typhoon Haiyan.
2013 Refloating of the Costa Concordia
On 17th September 2013, from its orbit 695 km above the Earth, Pléiades witnessed the refloating of the Costa Concordia off Giglio Island.
To find out more
Destruction of the Temple of Baal in Palmyra
OneNow priority tasking rapidly revealed the situation on the archaeological site, which had become inaccessible. The images from the Pleiades satellites confirmed the destruction of the Temple of Baal in Palmyra.
Sports facilities in Rio de Janeiro
For more than three years, Pléiades had been tasked with monitoring, observing and promoting these major urban development works in the Barra da Tijuca district, one of the four sites being developed to host the 2016 international sporting events in Rio de Janeiro.
To find out more

The Pléiades Constellation is 5 years old