What's New in GeoStore?
We continuously develop our GeoStore in order to offer you the best possible online experience. Stay up to date on the latest improvements in GeoStore.
September 2016
Find every answer to your most frequent questions within the FAQ in the Help and Support section of the GeoStore homepage.

The Target Mode allows you to more easily manage a great number of search results located within your AOI by selecting only the image segments stacked right under your click
Switch the

button located in the header of the result list to enter Target Mode. The result list then turns purple.
Click within your AOI to display the image segments located right under your click. The following symbol will be displayed at your click location:

Select your images and interact with the result list as you would do in the classic mode. As the results are not automatically displayed at the top of the list, we advise you to temporarily add the retained images to the cart with

to set them aside. You may still remove the images afterward.
Again switch the

button to go back to the classic mode. You will find back your selected products in the result list.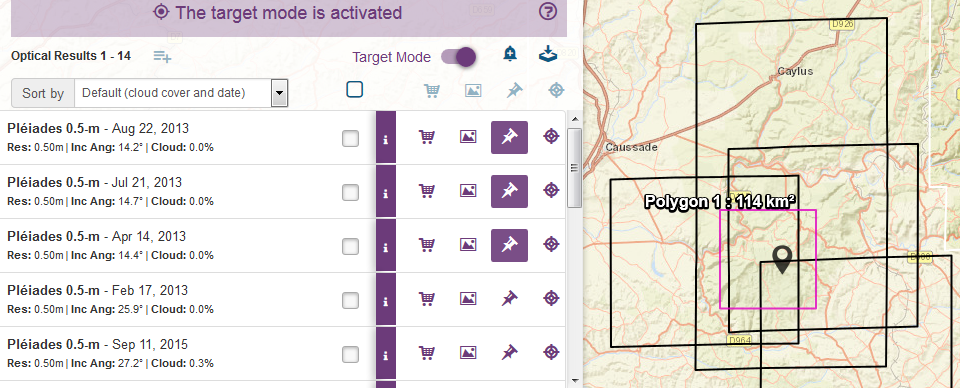 August 2016
Just paste the requested image ID and click on the magnifying glass. Your search will then be redirected to the GeoStore portal.

Enter the location name in the search bar and click on

displayed before the proposed locations to automatically draw an AOI on this location and zoom on it.
You may also enter the area location in the search bar and click on the name of the location to zoom on it:

Use the advanced Drawing functionalities to enter the center point coordinates in decimal or sexagesimal units by clicking on

. Choose to draw whether a square or a rectangle around this point and click on


You can as well enter the corner coordinates of your AOI using the upper left corner coordinates and lower right corner coordinates.