MyGIC
My GEO Innovation Community
The GEO Innovation Community MyGIC offers users the opportunity to assess the usability of Astrium Services' imagery products for their respective applications in innovative Earth Observation projects.
This unique user group fosters innovation and research on diverse applications, where satellite imagery e.g. from our Pléiades and SPOT 6 satellites, can help solve issues and have a tremendous impact – and makes results and experiences available to all users.
Sharing Pléiades & SPOT 6 Experiences
MyGIC provides free-of-charge satellite imagery to scientific and academic organizations and private companies worldwide, following an application for project and a project selection process.
The MyGIC projects vary in nature, ranging from environmental concerns to photogrammetry applications. Their authors agree to share their image-driven work and their compelling stories with the entire community.
Pléiades User Group – First Results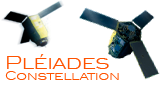 Explore the World and discover the first results of the Pléiades user group now!
It's all about stories that matter… A question of insight on possible issues on the horizon for your application projects..
SPOT 6 User Group – Call for Projects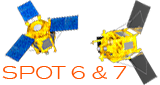 Following the great success of the Pléiades User Group, we are very pleased to announce a new call for projects with SPOT 6 imagery products.
The submission period is open until March 31st, 2013.
Astrium Services will provide SPOT 6 products free of charge for all selected projects. Selected users will be part of the GEO Innovation Community and able to present their projects via the dedicated web portal MyGIC.
Who can submit a project?
The GEO Innovation Community is open to any companies, academic and scientific institutions worldwide.
How to submit a project?
Fill in the project application form and complete it with as many details about the project as possible. Then, send the form to MyGIC@astrium-geo.com together with a kml/kmz file to describe the area of interest.
Project selection
The GIC scientific committee assesses all the project proposals and rates them according to a set of criteria, including:
Are methodology or tools innovative?
What is the application behind it?
Is the project user-driven?
Does the project support climate change issues?
The 60 projects with the highest score will be selected and receive free data; candidates will be informed within a few weeks after submission.
Questions or comments?
Did you know?
The call for projects for the SPOT 6 user group has been extended to March 31st, 2014.
Submit your project today and receive free SPOT 6 satellite data to assess your idea!