Airbus Defence and Space's GEO Data Packages
Our archives have been filled over decades with satellite imagery, data and derived geo-information. Our GEO Packages contain off-the-shelf information from these archives – attractively packaged to support oil and gas companies' international exploration and production activities.
Rapid Availability of Geo-Information for Oil & Gas Assessments
World-wide activities from oil, gas and mining companies require quick assessment of technical and non-technical conditions for feasibility studies and exploration. Our GEO Data Packages respond to this need: Regional and country packages have been created from Airbus Defence and Space's huge data archives.
These GEO Data Packages can be accessed quickly, as they comprise geo-information already available off-the-shelf. Customers select relevant layers in line with actual needs. Strong discounts are applied - the more layers are selected, the more attractive the discount (compared to individual orders).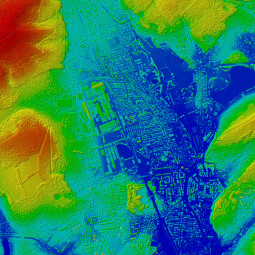 Further, an attractive access to up-date and/or upgrade geo-information is an additional option – quick and easy, relying on Airbus Defence and Space's profound satellite constellation and related service capacity.
The following archive layers can be comprised in a GEO Data Package (availability may vary for different country/ regional packages):
Search for your GEO Data Package by country or region.
Airbus Defence and Space's GEO Data Packages