TerraSAR-X / PAZ Constellation
Adding a Radar Component to Airbus Defence and Space's Unique Constellation Portfolio
Optimised revisit time, increased coverage, improved service: Enhance your monitoring applications and capitalise on the new capabilities offered by the new radar satellite constellation comprised of TerraSAR-X / TanDEM-X and PAZ.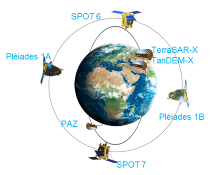 The Spanish PAZ satellite (owner and operator: HisdesSAT) will be launched into the same orbit as TerraSAR-X and TanDEM-X in 2018. Operating the three almost identical satellites in a constellation will provide customers with a wide range of benefits:
Significantly reduced revisit time:
- Daily Revisit for image intelligence or monitoring
- 4 / 7 days for interferometric applications (i.e. surface movement monitoring or coherence change detection)
Enhanced acquisition capacity for monitoring and mapping applications
Identical imaging modes (incl. Staring SpotLight and Wide ScanSAR) and image characteristics
Easy ordering through one order desk, single catalogue and one pricelist
Besides significantly benefitting frequent monitoring applications (e.g. maritime surveillance), the TerraSAR-X / PAZ constellation will also offer improved interferometric capabilities for precise monitoring of highly dynamic surface movements.
Airbus Defence and Space opens up a new era in constellation services.
The unrivalled constellation capabilities combining optical and radar satellites provide for:
Unprecedented worldwide coverage regardless of Area of Interest and weather conditions
Daily and intra-daily revisit capacity for any point on Earth
Enhanced sensor availability and capacity guarantees data access when and where needed
High information content and reliable interpretation through complementary use of radar and optical data