Astrium Services Announces 'Geospatial Data in the Cloud' Webinar Series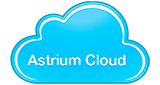 Toulouse, France – April 25, 2013 – Astrium Services today announced a webinar series dedicated to helping organizations understand the important new opportunities available through cloud-based geospatial data management services. The free series – 'Geospatial Data in the Cloud' – will illustrate the technical, cost, and performance benefits for organizations that shift their data hosting, processing, and other management activities to a Cloud architecture.
Slated to launch this May, each webinar will focus on the many ways organizations can leverage cloud-based geospatial data management to improve their operating performance, including:
Single Point Access – Learn how the Cloud dramatically simplifies the process of integrating geospatial business intelligence into existing organizational workflows.
Managed Hosting – Discover how the Cloud enables organizations to reduce staffing and technology commitments while simultaneously improving performance through access to the very latest in multi-resolution, multispectral satellite imagery.
Instant Tasking – Learn how 24/7 Cloud access for the first time makes instant satellite tasking for time-sensitive or emergency-response professionals a critical new option.
Data Streaming – See how Cloud technology makes 'anywhere, anytime' streaming of geospatial data a vital new tool for those who depend on geospatial business intelligence.
Geo-Processing – Discover how the Cloud can make your geo-processing processes faster and more efficient, regardless of whether you're employing industry standard or custom protocols and algorithms.
Sign up today for one or all of these webinars and let us show you everything that is possible in the Cloud.
Geospatial Data in the Cloud Webinar Series