TerraSAR-X - 5 Years in Orbit and Still Going Strong!
A Success Story of Precision and Reliability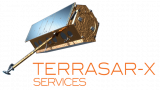 TerraSAR-X celebrates the completion of its fifth year in space, which is at the same time the originally planned nominal lifetime of the satellite. The satellite remains in brilliant health condition and reliably continues to deliver data products with unique accuracy and precision. The extended lifetime of the satellite is forecasted to be at least a further 2-3 years.
A New Chapter for Earth Observation
Commercial TerraSAR-X business operations have been ongoing since early 2008, and Astrium GEO-Information Services (through its German part Infoterra GmbH, owner of the exclusive commercial exploitation rights) has successfully established a solid position in the global market for Earth observation data and services.
The delivery of uniquely precise radar satellite data turned TerraSAR-X and the derived capabilities into THE benchmark in the Earth observation (EO) community. A continuously growing number of users around the globe are convinced of the unique advantages TerraSAR-X has to offer and benefit from TerraSAR-X data and derived information for versatile applications:
Large-scale topographic and thematic mapping, especially in equatorial regions, rely on cloud-independent radar data
Change Detection applications and targeted surveillance support national and international intelligence and security tasks,
Digital Elevation Data can be derived independent of relief characteristics or weather conditions,
TerraSAR-X based rapid maps support crisis response and humanitarian aid following natural disasters such as earthquakes and floods, around the world.
The commercial success and acceptance within the EO community illustrates that the concept of the TerraSAR-X program, including the novel Public-Private-Partnership (PPP) approach to financing and implementing this mission, proved to be sustainable.
Paving the Way to Novel Commercial Applications and Markets
Thanks to the sensors unique precision new and novel applications for Synthetic Aperture Radar (SAR) data were developed and enhanced, opening up the use of satellite data to new market segments and customer groups.
This information helps for instance, engineering companies to ensure the safe operation of large construction projects, also oil and gas companies are increasingly recognising the potential of using SAR imagery to monitor their production.
From the start of TerraSAR-X operations Astrium GEO-Information Services has supported partners and customers in new market areas to discover the potential of incorporating SAR data into their operations. The company offers targeted SAR Training courses of different levels and content and supports its customers through close cooperative work and the implementation of pilot projects demonstrating the possibilities of SAR technology.
And the Success Story Continues …
In 2010 TerraSAR-X was joined by his "twin" TanDEM-X. The two satellites now fly in a unique satellite constellation at a distance of only a few hundred metres and synchronously acquire the database for a global homogeneous Digital Elevation Model. WorldDEM™ will be characterized by a unique combination of accuracy, quality and coverage. Elevation information of the Earth's entire landmass will be available from 2014 with a vertical accuracy of 2m (relative) / 10m (absolute) in a 12m raster.
Since the integration of the Astrium subsidiaries Infoterra and Spot Image into the GEO-Information division in 2011 the company's EO data portfolio includes optical and radar satellite imagery as well as aerial data. This unique asset enables the development and provision of novel applications combining different data sources for instance into powerful change surveillance and change detection services for remote areas and independent of weather conditions.
Astrium GEO-Information Services is now also working with Hisdesat, the Spanish government satellite service operator of the PAZ radar satellite to establish a constellation approach with TerraSAR-X and PAZ. Operating the two virtually identical satellites as a constellation will enhance a wide-range of time critical and data intensive applications through shorter revisit times and increased data acquisition capacities.
At the same time, technology developments are progressing for the next generation radar satellite featuring higher resolution and improved information content. It will be interesting to see the development of existing and new applications enabled by sensor technology innovations.
Stay tuned for the continuation of the success story!
Documents
Download TerraSAR-X Services 5-Year Anniversary Price list