Technical Information about the SPOT Satellites
High resolution, stereo imaging and revisit capability are unique features of the SPOT system. The SPOT satellite Earth Observation System was designed by the CNES, the French Space Agency, and developed with the participation of Sweden and Belgium.
SPOT Satellites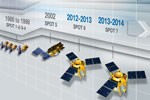 The system has been operational since 1986 when SPOT 1 was launched.
SPOT 2 was placed in orbit in January 1990, followed by SPOT 3 in September 1993, SPOT 4 in March 1998 and SPOT 5 in May 2002.
System continuity will be assured by the SPOT 6 and SPOT 7 constellation.
More information about SPOT satellite
SPOT Images
The range of SPOT images includes several products defined by the sensors characteristics, the preprocesses and the format.
Find out more about:
SPOT Exploitation
2 satellites are in orbit at present, operated by Airbus Defence and Space, the commercial operator: SPOT 4 and SPOT 5.
Elevation30 products
SPOT Technical Information