TerraSAR-X Direct Access Services
The Quickest Way to TerraSAR-X Data
Airbus Defence and Space Direct Access Services enable selected partners and customers around the globe to receive TerraSAR-X data directly from the spacecraft at their own ground station.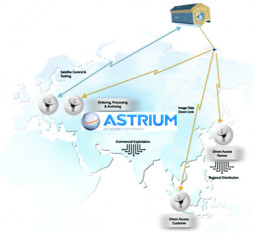 This Direct Access Service is provided by Airbus Defence and Space German part, Airbus DS Geo GmbH exclusively. Based upon a dedicated service agreement between Infoterra and the Direct Access Customer (DAC) or Direct Access Partner (DAP; a regional sales partner), a Direct Access Station (DAS) is installed and equipped with all necessary means, comprised in the Direct Access Terminal (DAT). If the partner already operates an established Ground Station, this can simply be upgraded with a DAT to enable the direct reception of TerraSAR-X data.
If you are interested in the Direct Access Services, and would like to learn further details, please contact our Marketing & Sales Team, they will be happy to provide detailed information on conditions and contracts.
TerraSAR-X Direct Access Service