National spatial data infrastructure for Serbia
IGIS for Serbia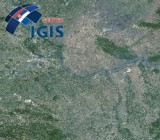 A high-level Serbian customer visit to Toulouse recently marked a key step in the Astrium-IGN France International (IGNFI) project to provide Serbia with a national infrastructure for delivery of spatial imagery.
In June 2009 the Geo Information Division of Astrium Services in partnership with IGNFI International signed a contract with the Serbian Geodesy Institute (RGA) to provide it with the means to become the central supplier of geoinformation data for public and private institutions in Serbia.
On 8 July, senior Serbian government representatives visited the GEO Information Division's Toulouse facility where they saw and approved newly installed hardware and software dedicated to their project. The partnership with Astrium is key for the Serbians as they see it helping them to shape the way they intend to work on future government/commercial projects in other areas. Mr Nenad Tesla, RGA Managing Director said, "Thanks to the successful cooperation between RGA from Serbia and the consortium from France, we are sharing and shaping the models of future cooperation."
Since contract signature two years ago, ratification took around one year and work was able to get under way in September 2010. This commenced with the Astrium–IGNFI and Serbian teams getting to know how each other worked and fine-tuning of the configurable parts of the system. In addition to sourcing the aforementioned hard- and software – which will be transported to and installed in RGA's facilities at the end of this year – an operator training programme was also swiftly put in place in-country. Starting with an initial group of 10 people, this will ramp up to around 50 Serbian personnel.
Another part of work so far has been the acquisition programme, ensuring that the exact satellite and aerial data requirements will fully meet the customer's needs. Data deliveries have already included a SPOT 5 mosaic of Serbia, created from existing archive data, which was delivered in December 2010. New imagery is currently being collected which will be delivered to Serbia as raw data at the end of this year. As part of the training programme Serbian operators will then create a new mosaic themselves.
National spatial data infrastructure for Serbia