Video of Solar Panel Deployment
August 2009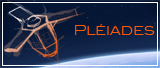 Pléiades-1 has completed a series of tests at Intespace in Toulouse to simulate operating conditions in space. End July, the deployment of one of the satellite's three solar panels was filmed. In space, this operation will be performed just after reaching orbit.

The three solar panels are mounted directly on the bus structure. This architecture gives the spacecraft extra stiffness, damps vibrations and helps to improve image quality.
The panels will also supply the electricity to power the satellite.