Foundation Layer
Aktuelle Daten für die Aufklärung
Militärische und kritische Infrastrukturen ändern sich, so dass die GEOINT Gemeinde ein schnelleres Aktualisierungsintervall benötigt. Unser exklusiver Zugang zu unterschiedlichen Satellitensensores und digitalen Höhenmodellen ermöglicht es uns Ihnen ein einzigartiges Produktportfolio anzubieten.
Regelmäßig aktualisiert, genau, zuverlässig
Unser Foundation Layer Portfolio profitiert von der häufigen Erfassung, der hohen Genauigkeit und der großen Abdeckung der verschiedenen Satellitenkonstellation von Airbus Defence and Space. Täglich werden über 20 Millionen km² erfasst, sowie jeder Punkt der Erde mit unterschiedlichen Auflösungen zwischen 0,5m und 2,5m aufgenommen.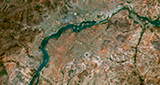 GEOMaps
GEOMaps liefert den Überblick: landesweite Mosaike mit nahtloser orthorektifizierter Farbabdeckung.
• Die erste Lieferung basiert auf neuen SPOTMaps 1.5 mit einer Auflösung von 1,5m
• Aktualisierung alle 2 Jahre mit SPOT 6 und SPOT 7 Daten.
SPOT 6 Satellitenaufnahme - Bamako, Mali © 2013 Astrium Services

Sehr hohe Auflösung
Hochauflösende Pléiades Aufnahmen liefern Ihnen detaillierte Informationen von interessanten Bereichen wie Häfen, Flugplätzen und Städten.
• Aktuelles und präzises 50cm Produkt
• Jährliche Aktualisierung
Pléiades Satellitenaufnahme - Tartus Port, Syrien © 2013 CNES / Verbreitung Astrium Services

SPOT DEM Precision
Bleiben Sie mit SPOT DEM Precision auf der Höhe der Zeit
Konzipiert für sehr hohe Anforderungen, garantiert SPOT DEM Precision nicht nur einheitliche geometrische und konsistente DTED2 Qualität sondern liefert auch Qualitäts- und Rückverfolgbarkeitsindikatoren für jedes einzelne Pixel.
Kontinuierliche Aktualisierung der Daten
Datenpflege ist ein entscheidender Punkt, wenn es um die Sicherstellung der Integrität und des Informationswertes einer Kartendatenbank zur GEOINT Analyse geht.
Mit dem Foundation Layer Angebot von Airbus Defence and Space ist gewährleistet, dass Analysten von Nachrichtendiensten stets die neuesten Daten nutzen.