Imagem de Satélite Pléiades
A constelação de altíssima resolução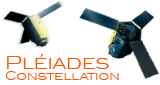 Pléiades 1 A e Pléiades 1 B operam em constelação na mesma órbita, distanciados 180° um do outro.
Os satélites gêmeos coletam imagens ópticas de alta resolução em tempo recorde e oferecem capacidade de revisita diária para qualquer ponto do globo.
Ágil Entrega
A constelação Pléiades foi concebida para obter dados rapidamente:
Capacidade em adquirir imagens em qualquer parte do mundo em menos de 24 horas em resposta a uma crise ou desastre natural
Monitoramento regular, com frequência diária, se necessário.
A agilidade dos satélites garante tratamento prioritário aos pedidos de programação de última hora.
O dobro de cobertura aumentam chances de obter imagens livres de nuvens
Detalhe e Precisão
Os produtos Pléiades são ideais para mapeamento de precisão e fotointerpretação.
Resolução de 50cm, colorido, imagem ortorretificada
20Km de largura de cena no nadir chegando até 100Km X 100Km no modo de faixa de mapeamento
O acervo Pléiades completo está disponível em alguns cliques via GeoStore
Disponibilidade e Flexibilidade
Capacidade de aquisição para 1 milhão de Km² por dia, por satélite

Agilidade excepcional para maximizar a aquisição de uma área de interesse específica

5 modos de aquisição: Alvo, Faixa de Mapeamento, Tri-stereo, corredor e vigilância persistente.
Did you know?
Pléiades, a civil/military programme integrated with SPOT 6 and 7
The Pléiades programme stems from the ORFEO cooperation agreements established in September 2001 by the French and Italian space agencies to develop a dual-use Earth-imaging system offering sub-metric resolution.
Novidade
Pléiades, Nova Qualidade de Imagem
Produtos mais nítidos e com melhor geometria
Veja você mesmo.
Vídeos